Tonya's Before & After Pics and Testimonial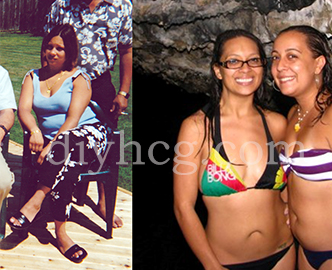 Tonya's Weight Loss Success Story:
Start weight: 152 pounds
End weight: 113 pounds
Total weight lost: 39 pounds
Went from a 29% body fat ratio to a 19% body fat ratio
Starting pant size: Size 14
Ending pant size: Size 4
She lost a total of 10 pant sizes with the HCG Diet!
Here's more about Tonya's HCG Diet experience in her own words:
"As an adult, I took to food as a comfort... I used it to help with dealing with all of the ugliness around me.  I grew in size and anger — being angry at myself for gaining weight only led to me eating more, and getting bigger and angrier at myself. I was constantly compared by my family to my siblings who I felt, were perfect in every way.  By the time I was 22, I was a size 14, which doesn't seem that big in the grand scheme of things, but on my 5-foot frame, it was a lot.  I was border-line diabetic, sick all of the time, dealing with chronic joint pain and diagnosed with hypothyroidism.  I was beginning to yoyo between binge eating and extreme dieting, and in between all of this, I got even sicker.  As much extreme dieting as I tried, I never was below a size 10.
After several years of this madness, and wanting to have children one day, I finally, at 32, sought help from a Naturepath in my hometown.  She told me about DIYHCG.  I had heard a little about it in the media but was very intimidated by the thought of giving myself shots and of the discipline needed to follow this diet.  She told me about the drops and the website...I ordered it immediately and told myself this would be the last diet I will ever do!  January of 2009, I started DIYHCG.  I followed it to the "T" , never cheated once, and adhered to all of the rules... I found it easy to follow a structured diet.  Seeing results EVERY DAY gave me great encouragement.  In three weeks, I went from 152 lbs and 26% body fat to 121.6 lbs and 19% body fat!  Going from a size 14 to a size 4!  I loved seeing my friends mouths just DROP when they came to see me... I felt that for the first time in my LIFE, I was in control of my weight.  I also know that no matter what, I have the tools and knowledge to maintain my weight and health for the rest of my life!
Today, the results of my diet are strong and still dropping mouths everywhere I go...especially with folks I haven't seen in years.  I am now 34, a size 1 - 2, and weigh in at 113 lbs and 18% body fat!  Not only have I KEPT THE WEIGHT OFF, I have learned to love myself, be active, eat healthy with reasonable, and scheduled, indulgence....but more importantly, I no longer am in danger of diabetes, chronic joint pain, illness and my Hypothyroidism has disappeared ALL TOGETHER!
Today, I coach friends and family with DIYHCG... I'm there to encourage them and support them as a passion.  I love helping others feel as good about themselves as I feel about myself.  DIYHCG has definitely changed my life. Much Mahalos!"    ~Tonya
View the rest of our Before and After Stories (including Before and After Pictures) HERE!