Robecca's HCG Diet Review and Before & After Pictures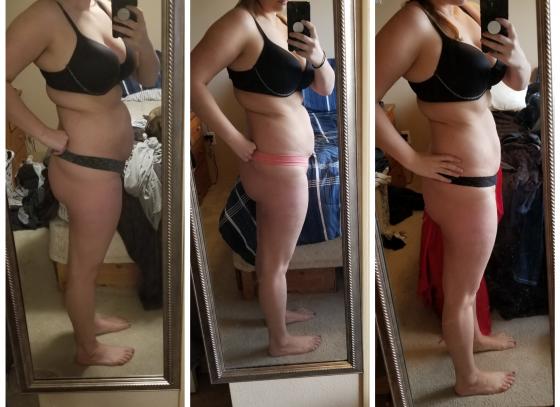 Check out Robbeca's HCG Diet review using hcg drops from DIYDietStore.com. She purchased the 40 Day Original Formula with Alcohol Base.
Robbeca is a 5'10", 25-year-old woman. She used our DIY HCG drops to achieve rapid weight loss on the HCG Diet Protocol. Robbeca started the HCG Diet weighing 232.0 lbs. and finished weighing just 209.2 lbs. That's a loss of 22.8 lbs. in her first round of the HCG Diet! 
While Robecca lost weight all over her body, it is most apparent in her back, stomach and abdomen. She partially attributes her ability to stay on the diet with the noticeable results she experienced early on along with the feeling of accomplishment she felt as a result of the rapid weight loss. Being able to tell a difference in her body and how her clothes felt after just 10 days on the diet was very encouraging to her.
The below is what Robeeca had to say about the diet and DIY HCG drops:
"At first, I was a little skeptical on if this product would actually work. But once my best friend started this journey and I saw her results, I was hooked! This journey has been the most amazing experience ever. It has pushed me to become a better person with a new outlook on eating healthy. I was able to see results within 10 days, which was such a great feeling. I would highly recommend this to anyone. Three of my friends and family are doing this now 🙂 and I will be doing it again at my 6-week mark!"
Congratulations Robecca! Way to go!
See what other customers have said about DIYDietStore.com's Original Formula Drops...
"The plan is wonderful and has worked with me precisely as described. I'm very happy with the results in my life. It gives you the edge to help to your goal weight and how to keep health in life maintenance. A very reasonable plan overall." ~Sharon
"When the original diet is followed, weight drops off easily. After day 2, no headaches, lots of energy ... feel great! I don't purchase hcg drops from anywhere else. Great product!" ~Deborah B.
"I have lost 55 lbs on two rounds. Holding my own right now and getting ready for final round!! 25 more to go and I know I will do it!" ~Mindy