Jill's Before and After Pictures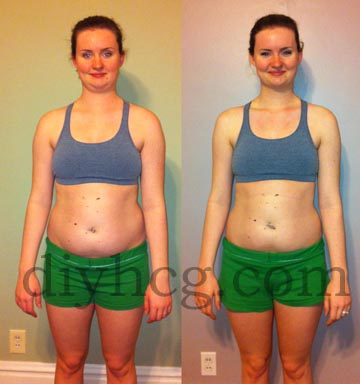 Jill's Weight Loss Success Story:
Start weight was 164.2 pounds
End weight was 148.0 pounds
Jill had a total weight loss of 16.2 pounds
She lost a total of 28.5 inches over her entire body.
Here's what Jill had to say about her experience with the HCG Diet:
"For the record, in the before picture I was NOT pushing my stomach out! However, it was taken on the evening of the second HCG gorge day, so I was really full." After seeing my HCG before and after pictures myself, I really shouldn't complain! I was a good girl and didn't look at the before pictures until this morning; after taking the after pictures and I was so surprised!... Things I am really happy about: my arms, waist, and face! Things I would like to see change more in the future: my love handles/back/hiney (aka butt), but I think some yoga mixed with some cardio will do the trick on these. I can't believe I'm saying this, but I'm actually excited to start working out again! I really haven't since before my wedding last summer and am feeling ready to get going! (Although I think I'll be waiting until the second three weeks of HCG P3 to add this in.) Not too shabby for a 23-day round of HCG!"    ~Jill C.
Jill also recorded her day-to-day experience with the DIY HCG Diet in this amazing blog... Jill's HCG Diet Journey. In her blog, she will show you how a life in the day of the HCG Dieter really is. She will also share several HCG Diet tips, tricks, and recipes along the way. Join Jill in her HCG Diet journey by clicking here.
View the rest of our Before and After Stories (including Before and After Pictures) HERE!

Want more success stories? Read what others have said about the DIY HCG Diet below...
"It works"      ~Terri B.
"This diet is amazing. I lost 23 pounds in a quick round before a vacation so I would look better on the beach. It was easy to follow along with the little book then send out in your package. The food list is simple and it's easy to memorize and go grocery shopping. The hardest part for me was not going out to eat with friends, but it only lasted a month. And then when my friends did finally see me, they were impressed with how I looked. So it was worth the wait."    ~Steven R.
"It works when other diets have not. Health improved, energy increased."    ~Dona M.