5 Ways to Exercise This Fall and Have Fun Doing It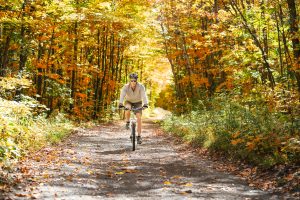 The summer workouts are over. The days are shorter, leaves are changing color, and the air is getting colder. What does that mean? It's the perfect time to be more physically active and enjoy doing it. These days, more people are choosing to exercise in a less structured manner, and doing so will still help you stay in shape without the doldrums of working out in a gym. It's the perfect time to take your workout outdoors, and the cooler air will help you stay motivated. Need some ideas for exercising this fall?
1. Head to the Park
In some ways, a park is like an outdoor gym, and the monkey bars and a park bench are your equipment. You don't even have to pay to use the equipment, and no sweaty people are competing with you for it. So design a fitness routine you can do outdoors at a local park. Here's an example. Run around the park once, and then use a park bench to do a set of push-ups and dips. If you're strong, use the monkey bars to do a set of pull-ups or bar hangs. Then, run around the park again. Keep repeating. Enjoy the fresh air and sunshine while you're at it.
2. Hike on a Trail
Head over to Trails.com and find a trail near you. Then put on your hiking boots and start hiking. The uneven terrain increases the challenge and cardiovascular benefits, especially if you tackle a mountain trail. Plus, trail walking improves balance skills more than walking on flat ground.
Be sure to stop and appreciate the colorful leaves, breathe deeply, and express gratitude. To make your workout more challenging, strap on a loaded backpack before your hike. Make sure your load includes plenty of water to keep you hydrated! Hiking is an excellent exercise for building stronger glutes, hamstrings, quadriceps, and core.
3. Take a Run or Brisk Walk
During the summer and winter, you may feel like you have to drag yourself out of bed in the morning for a run. But when the temperatures cool and the leaves turn different colors before your eyes, it's a different experience. The changing leaves provide a visual feast for your senses. If you already walk or run, pick up the pace a bit now that it's cooler, or add an extra hill. If you're just starting, autumn is the perfect time to get started.
4. Take a Long Bike Ride
What better way to enjoy the fall scenery than on a bike? Cycling offers some of the same health benefits as running. Studies show it can lower blood pressure, reduce inflammation, improve blood lipids, and improve cardiovascular fitness. It's also a low-impact exercise that doesn't place stress on your joints. Plus, biking is a calorie burner if you're trying to get leaner.
Riding a bike can also improve mental health. It hardly feels like exercise when you're watching the scenery go by as you pedal, and you'll feel your mind relax as you breathe in the fresh fall air and soak up the brilliant fall foliage. Plan your route ahead of time and keep varying it so you can enjoy different nature scenes. Check online for popular biking paths in your area, or ask your friends where they ride their bikes. Keep pedaling and don't forget to wear a helmet!
5. Tackle a Fitness Trail
A fitness trail is a walking or running loop around a park that incorporates as many physical challenges as possible, from hills to curbs to different terrains. You walk or run the trail and stop at various stations where you complete an exercise challenge. At one station, you might find a set-up for doing push-ups. The next might have a bar for leg raises or pull-ups. With a fitness station, you get aerobic exercise from walking or running, and strength training from each fitness challenge. Search online for fitness trails in your area and visit one.
The Bottom Line
Now you know how to stay physically active this fall, and you won't have to step foot in a stuffy gym to get an effective workout. Enjoy the spectacular fall scenery.