3 Asparagus Recipes Perfect for Summer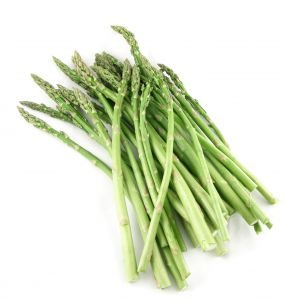 Looking for some easy ways to add healthy recipes to your life? Look no further! Here are 3 asparagus recipes perfect for summer.
Asparagus is a great choice for boosting any meal. This yummy vegetable is packed with good things for your body. Asparagus is filled with vitamins and minerals, perfectly designed to aid a healthy diet. This crisp, sweet veggie is rich with antioxidants, especially vitamin E. Asparagus also has tons of soluble and insoluble fiber, which can help you lose weight. Since asparagus is both healthy and delicious, we've rounded up three of the best summer recipes featuring this crisp, sweet veggie.
Before you dive into these delicious recipes, make sure your asparagus has been properly cleaned. Below are our tips for preparing this versatile veggie.
Cleaning - To be sure your asparagus is ready for cooking, you'll need to clean the spears. Rinse all spears in cool water to remove any remaining dirt and grit. Then, snap off the bottom inch or so with your fingers. This will ensure any leftover woody bits will stay out of your delicious recipes.
Now that you've properly cleaned your asparagus, it's ready to cook! Read on for your new favorite summer asparagus recipes.
Asparagus Summer Salad
Warm weather calls for fresh, simple salads. This delicious salad features several items likely to be in your home garden, including red onions, chives, cilantro, and basil. The homemade dressing is one you'll want to make over and over.
Ingredients:
2 pounds fresh asparagus, cut into 2-inch pieces
2 tablespoons lemon juice
2 tablespoons Dijon mustard
3 tablespoons olive oil
1/4 cup fresh chopped basil
1/4 cup fresh chopped cilantro
1/4 cup fresh chopped chives
1 cup sliced red onion
3/4 cups toasted pine nuts
1/2 cup crumbled feta
dash of salt
dash of pepper
Directions:
1. Add asparagus to a large pot of boiling water. Cook until asparagus appears bright green and slightly softened (1-2 minutes). Avoid cooking asparagus for too long. You don't want mushy spears. Drain asparagus.
2. In a large bowl, mix lemon juice, Dijon mustard, fresh herbs, and olive oil.
3. Add cooked asparagus, onion, pine nuts, feta, salt, and pepper to the dressing. Mix until well combined.
Serves 6.
Balsamic Parmesan Asparagus and Tomatoes
Featuring fresh asparagus and cherry tomatoes, this dish is both simple and delicious.
Ingredients:
1 1/2 pounds fresh asparagus
1 1/2 cups cherry tomatoes, cut in half
1 tablespoon olive oil
1/2 cup grated parmesan
1/2 cup balsamic vinegar
2 tablespoons sliced basil
salt and pepper to taste
Directions:
1. Preheat oven to 400 degrees F.
2. Toss asparagus and tomatoes with olive oil, salt, and pepper. Place on baking sheet in a single layer. Cover veggies in a thin layer of parmesan and bake for 15-20 minutes. Veggies should begin to caramelize. Mix asparagus and tomatoes halfway through baking.
3. In a small pot, bring balsamic vinegar to a simmer. Vinegar should thicken in about 10 minutes.
4. Serve veggies warm, drizzled with vinegar and garnished with fresh basil.
Serves 4.
Grilled Bacon Wrapped Asparagus
This recipe is about as simple and delicious as it gets! Two ingredients, one grill, and one great barbecue!
Ingredients:
1 pound asparagus
1/2 pound of bacon
Directions:
1. Heat grill to approximately 400 degrees F.
2. Break asparagus spears in half.
3. Slice each strip of bacon in half, and then wrap both halves around one asparagus spear. Repeat until all ingredients have been used.
4. Using a toothpick, secure the bacon strips to the asparagus spears.
5. Grill for about 25-30 minutes, flipping spears halfway through.
6. No grill? No problem! Roast in the oven at 400 degrees F for 25-30 minutes.
Serves 10.
We hope these recipes help you kick start your healthy summer diet. With these delicious dishes in your cookbook, you're sure to convince even the pickiest eaters to become asparagus fans!