Spices on the HCG Protocol and Other Oil-Free Diets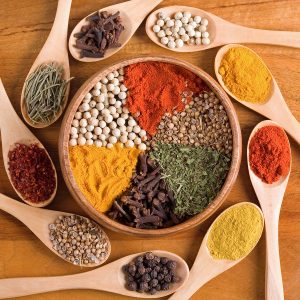 Be careful with spices and seasoning while on the HCG Diet as they may contain unallowed ingredients that could slow or stall your weight loss. Most spices you get from the store contain oil, sugar, fruit peel, carbs or preservatives. For example, Mrs. Dash can slow your weight loss as much as .2 lbs. per day which adds up to 1.4 pounds per week. Average weight loss is 3 pounds per week and if you subtract 1.4 pounds, that brings you down to an average of 1.6 pounds per week—that's half the weight you could have lost that week. Be sure to stay away from taco seasonings which may even make you gain weight since some brands of garlic powder contain modified corn starch. Don't risk losing 3 days or more trying to figure out what is causing you to stall. Buy fresh garlic and mince it yourself. Salt and pepper are safe, but make sure you buy these spices fresh or organic: basil, caraway, fennel, garlic, ginger, mint, oregano, parsley, rosemary, sage, thyme, saffron, tarragon and any other spice you use.
We created Simple Girl Seasonings for your convenience. We designed these flavors for the specific foods you will be eating on the diet. For instance, the Lemon Herb seasoning tastes great on chicken, fish and fresh vegetables. The Steak seasoning, obviously tastes wonderful on steak, but you can use it on your chicken and vegetables as well. The Southwest seasoning tastes delicious on ground beef. The BBQ seasoning adds that flavor you crave when you grill your chicken, steak and hamburgers. The Sweet & Hot Louisiana seasoning has a sweet flavor with just a touch of heat and tastes great on any protein or, my favorite, sprinkled on cucumbers. The All-Purpose seasoning is safe to use on any protein meal. The Dry Bouillon Base was designed to season your meat, sauté vegetables or make a hot drink.
Use these tips if you choose your own spices:
Look for organic or all-natural seasonings to avoid chemical additions.
Avoid mixed spices and seasoning blends that contain oil, sugar, carbs, preservatives or fruit peels, check the ingredients (NOT the nutrition facts).
Ingredients should not list oils, fruit juices, starches, vegetables or maltodextrin (easily digestible carbohydrates).
Avoid ingredients ending in -ose, -tol, or -dextrin.
Spices should only be sweetened with 'pure' stevia.
If you follow these tips concerning spices, they will help you achieve the best possible weight loss.
You may use the Simple Girl spices on Diabetic Diets, the Ketogenic Diet, Ideal Protein Diet, Nutrimost Diet, Shape Reclaimed Diet, Weight Watchers Diet, Omnitrition Diet and the Atkins Diet too!