Feature Product: Southwest Seasoning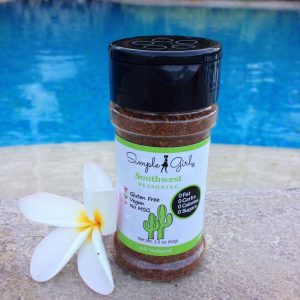 The HCG Diet helps people to achieve fast and effective weight loss as long as dieters are true to the required very specific diet. But, this does NOT mean that you must suffer through the HCG Diet with bland food. Spice up your meals with Simple Girl Seasonings. Featured here is the Simple Girl Southwest Seasoning. This gluten-free product contains zero calories, zero fat, zero preservatives, and zero sugar, with no artificial sweeteners. Southwest Seasoning is specifically designed without oil, starch, or sugar and is made with healthy, all-natural ingredients including organic stevia as an all-natural, diet-approved sweetener. With only 20 mg of sodium and zero cholesterol, this seasoning is a healthy, guilt-free way to add flavor to your meats while losing weight or maintaining weight loss.
Quick and Easy Recipes
Easy — Crumble 100 grams of 90% lean ground beef and mix in Southwest Seasoning. Form a patty and grill it in a couple of minutes on a George Foreman grill (or similar) to serve with your vegetable.
Easier — Make a spicy taco salad, topping 2 cups of romaine lettuce with prepared ground beef per above and sprinkle with 2 crumbled whole grain Melba toast rounds or 1 rectangle. Top with Simple Girl Organic Sweet Vinaigrette Salad Dressing or the Simple Girl dressing flavor of your choice.
Easiest — Sprinkle Southwest Seasoning on your ground beef, then add sugar-free tomato sauce for a hot bowl of chili.
Believe it or not, Simple Girl Southwest Seasoning is also good on seafood. Try shaking some on cod, shrimp or tilapia to shake things up and add variety to your meals.
For maintenance or to continue eating healthy for life, Simple Girl Southwest Seasoning can add a little zing to any meal. Are you a breakfast eater? Make an omelet with chopped onion, red and green peppers, cheese and finally, you guessed it — Simple Girl Southwest Seasoning. For lunch or dinner, try taking a black bean burger, topping it with fresh tomatoes and sprinkling Southwest Seasoning on top. Jazz up your salsa or other Tex-Mex recipes with this seasoning. You can also skip the cheese and sprinkle it on a bowl of refried black beans to eliminate some calories while adding some flavor. (Beware that pinto, kidney, lima beans, etc. are considered cautionary foods for the 1st 3 weeks of maintenance.)
Did you know that our Simple Girl Southwest Seasoning is also safe on many other diets including the Nutrimost Diet, Keto Diet, Shape Reclaimed Diet, Weight Watchers Diet, Ideal Protein Diet, and Atkins Diet? Because it is sweetened with diet-safe stevia and doesn't contain any oils, fats or other ingredients that could affect weight loss, it is ideal for these diets. Also, diabetics are also allowed to use this spice because it doesn't contain any added sugars.
We now offer a Southwest Gourmet Seasoning Pack which includes Southwest, Lemon Herb, Sweet & Hot Louisiana and Steak. Try some Simple Girl Southwest Seasoning today!