Feature Product: Le Pain des Fleurs Crispbread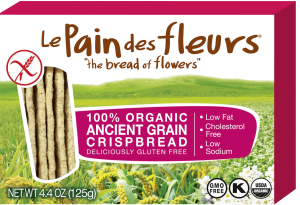 Looking for a gluten free HCG Diet Breadstick substitute or a healthy, sugar-free snack that has natural ingredients without added chemicals? Organic rice flour, organic buckwheat flour, organic millet flour and and a pinch of Camargue sea salt are the only ingredients in this tasty Le Pain des Fleurs Crispbread. Known as the "The Bread of Flowers", the grains in this crispbread are 100% organic and free of GMOs.  This cracker will give you that crunch you are craving without gluten, dairy, egg, soy, wheat or yeast. Great for maintenance and for life beyond the diet, this low-fat, low-sodium and cholesterol-free snack is just right for any occasion. For a healthy maintenance snack, spread on some hummus dip or add a piece of mozzarella and a slice of tomato.
Plus, you can actually eat this delectable snack on the VLCD (very low calorie diet). A single slice is the proper serving and can be eaten two times per day if the dieter has eliminated breadsticks/melba toast. And if you want to, you can eat your cracker away from your meals to spread out your food for the day but you can only have one cracker at a time. For example, you could have one piece of fruit for breakfast, a cracker for a snack, have your protein and vegetable for lunch, then eat your other cracker for an afternoon snack, and finally, eat your protein and vegetable for dinner and save the other piece of fruit for dessert. Each box has approximately 28 slices, which would last 14 days on the diet.
Gluten is a protein found in grain products such as wheat or rye and the NCGS (National Foundation for Celiac Awareness) estimates that as many as 18 million Americans may suffer from non-celiac gluten sensitivity (NCGS). Rice flour is a healthy and suitable replacement for wheat flour. For those who need to maintain a gluten-free diet; this is the perfect snack for you. The ingredients in this product naturally provide protein, phosphorus and magnesium.  Magnesium health benefits include energy production and the formation of healthy bones and teeth. It also helps with the transmission of nerve impulses, body temperature regulation and detoxification. Well known for aiding in the absorption of calcium by the body, magnesium helps keep osteoporosis at bay. Magnesium also helps relieve the symptoms of menopause and premenstrual syndrome (PMS).
Buckwheat actually doesn't contain any wheat or protein gluten because it is a fruit seed that is related to rhubarb and sorrel making it a suitable substitute for grain. Buckwheat provides a high source of amino acids, vitamins, minerals and antioxidants, all with fewer calories and almost no fat. It may also help to lower cholesterol and hypertension and improve digestion by relieving constipation.
Let Le Pain des Fleurs Crispbread provide an allowable gluten free CRUNCH on the HCG Diet or a nutritious snack as part of your healthy lifestyle after losing the weight.