Quick and Family-Friendly Low-Carb Recipes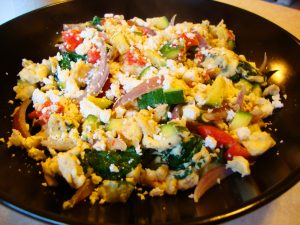 A low-carb diet can promote weight loss, and research shows that it can help reduce your risk of type 2 diabetes and other devastating illnesses. But trying to re-imagine mealtime without bread, rice, or potatoes can be a real challenge.
These low-carb recipes are quick and easy, and they're tasty enough that the whole family can get behind them.
Breakfast
Breakfast really is the most important meal of the day, fueling your body for the activities ahead. Toast and cereal are out, of course, but try one of these delicious dishes on for size.
Eggs 'n' Veggies
Dice up some veggies  — think carrots, broccoli, spinach, mushrooms, zucchini, onions, red, yellow and/or green peppers. Melt a tablespoon of butter or coconut oil in a nonstick skillet, and fry them up until they're soft. Crack a couple of eggs and scramble them over the vegetables. Mmmm! Breakfast!
Spinach & Feta Quiche
Make this baby on Sunday night, and eat it for breakfast all week long.
Preheat the oven to 350 degrees. Get out your non-stick skillet. Spray it or add a little coconut oil, and toss in 8 sliced button mushrooms; a clove of garlic, minced; and a quarter teaspoon each of salt and pepper. Sauté for 5 to 7 minutes, until the mushrooms are soft and the moisture has evaporated away. Coat a 9-inch pie plate with cooking spray. Squeeze the excess moisture from a thawed 10-oz box of frozen spinach, and place the spinach on the bottom of the pie plate. Place the mushrooms and garlic on top, and top this with two ounces of feta cheese. In a medium bowl, whisk together 4 large eggs, a cup of milk, ¼ cup of parmesan, and a pinch of pepper. Pour this mixture into the pie dish. Top it with ½ cup of shredded mozzarella, and bake on a baking sheet for 45-55 minutes, until the top is golden brown.
Lunch
Wondering what to take for lunch besides a sandwich? Think outside the bread box, and bring one of the following — or a combination of the following — delicious low-carb eats:
leftover chicken
bag of salad
canned tuna
boiled eggs
cold meat
avocado
cherry tomatoes
a cucumber, sliced
cheese
sliced veggies
berries
Dinner
Dinner is the most arduous meal of the day, but dig out the slow-cooker, and you'll be enveloped in the savory aroma of this delicious low-carb chili when you walk in the door.
Crock Pot Meat Chili
Sauté a diced onion and three cloves of garlic, minced, in a large saucepan. Add two pounds of ground beef or turkey, and cook until browned. Drain, and put the mixture in the slow cooker. Add the following:
1 red and 1 green bell pepper, diced
1 cup each of celery and carrots, diced
1 minced jalapeno
28-ounce can of crushed tomatoes
14-ounce can of diced tomatoes
15-ounce can tomato sauce
3 Tbsp chili powder
1 Tbsp each of oregano and basil
2 tsp cumin
1 tsp each of salt, pepper, and onion powder
½ tsp or more cayenne
Stir it up, cover, and cook on low for about six hours. Garnish with sharp cheddar cheese and avocado slices.
Cooking low-carb doesn't have to be complicated. If you're as busy as a bee most days, making low-carb quiches ahead of time for breakfast and relying on the Crock Pot for dinner are just two time-savers to make it that much easier.