You Won't Believe Your Tastebuds – Simple Girl Sweet N' Spicy BBQ Sauce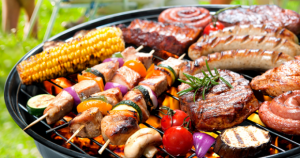 Simple Girl Sugar Free Carolina BBQ Sauce is perfect for the low calorie phase of the diet and many dieters continue to pour on that sauce after completing the low calorie phase BUT for HCG Maintenance and the "rest of your life", there is another option…Simple Girl Low Sugar BBQ Sauce — Sweet N' Spicy. The HCG Protocol is extremely effective as far as losing weight at a rapid weight but now you have to keep it off which most likely requires changing your everyday "go-to" foods, drinks and condiments. As far as BBQ Sauce, you probably don't want to waste 45 or 50 calories on 2 tablespoons of unhealthy BBQ sauce that contains ingredients like sugar, corn syrup, and high fructose corn syrup but Simple Girl Sweet N' Spicy BBQ Sauce is a healthy BBQ sauce with only 15 calories, 3 sugars and 4 carbs!

No need to worry about sugar and corn syrup in Simple Girl Sweet N' Spicy BBQ Sauce since it is sweetened with molasses and organic stevia. Molasses is a natural sweetener that comes from refining sugar beets and sugar cane and can have an abundance of minerals like iron, calcium and magnesium which may help to improve bone health.
This healthy BBQ sauce contains zero fat, and zero preservatives, is gluten free and perfect to use as a low calorie marinade, healthy cooking sauce, or fat free dipping sauce for all your favorite health foods. This gluten free BBQ sauce adds the perfect sweet and spicy flavor to your meals and snacks.
More about the Simple Girl Sweet N' Spicy Low Sugar BBQ Sauce:
Only 15 calories, 0 fat, 4 carbs, 3 sugars
Sweetened with molasses and organic stevia
Gluten Free, Vegan, and No MSG!
Perfect for most healthy living plans
Contains 12 ounces of tasty sauce
Use this savory healthy sauce as a delicious marinade, sauce or to dip your meat, tofu or fresh veggies. This low sugar BBQ sauce is great for anyone who is striving for a healthy lifestyle. Sweet N' Spicy BBQ sauce adds spice, smoke, and a touch of sweetness to your favorite dishes.
Low Sugar BBQ Sauce Nutritional Information: Serving Size 2 tablespoons, Calories 15, Total Fat 0g, Cholesterol 0mg, Sodium 100mg, Total Carbs 4g, Sugars 3g, Protein 0g.
Low Sugar BBQ Sauce Ingredients: Water, Tomato Paste, Apple Cider Vinegar, Molasses, Gluten-free Soy Sauce (Water, Soybeans, Salt, Alcohol), Spices, Onion Powder, Garlic Powder, Natural Hickory Smoke Flavor, Sea Salt, Stevia Powder. Contains Fermented Soy.