The Lowdown on Quinoa (Plus 2 Bonus Recipes)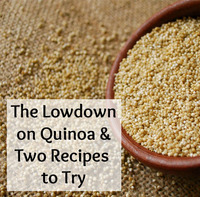 Quinoa, pronounced "keen-WAH" (if you have trouble remembering that, just remember it's the exact opposite of "Joaquin," which is pronounced "wah-KEEN,") is a whole grain that's gluten-free, and packed to the gills with iron, Vitamin E, magnesium, and potassium. It's a primo source of fiber, and it's rich in lysine, an amino acid that promotes healthy tissues. Quinoa is a complete protein, which means it contains all eight essential amino acids, making it a highly versatile staple for a vegetarian diet.
Quinoa looks a little like couscous, but its flavor is nuttier and richer. You can cook up a batch of quinoa in a mere 20 minutes and use it in baked goods or as a base for super healthy salads.
But be warned: Quinoa has a bitter coating designed to keep birds away, and soaking it in water for 10 minutes before cooking is essential for dissolving the coating. Some packaged quinoa is pre-soaked, but it's never a bad idea to give it a good soaking anyhow, just to be sure. You don't want your quinoa cookies to taste like tree bark.
Quinoa: It's What's for Lunch
Shaking up the work lunch routine is always a challenge. Happily, you can whip up a big batch of one of these quinoa salads on Sunday and enjoy a fresh, delicious, and incredibly healthy lunch all week. The high fiber content will help keep your blood sugar stable all afternoon to ward off the motivation-killing, post-lunch slump, and the healthy fats and proteins will feed your brain and body to help keep you sharp as a tack as you beat your afternoon workload into submission.
Quinoa with Fresh Tomatoes, Roasted Garlic and Spinach
Ingredients
1 head garlic
1 tbsp olive oil
1 tbsp minced shallots
1/4 tsp crushed red pepper
1/2 cup quinoa
1 tbsp dry white wine
1 cup low-sodium chicken or vegetable broth
1/2 cup fresh whole baby spinach leaves
1/2 cup tomatoes (seeded and chopped)
1 tbsp Parmesan cheese (fresh grated)
Salt to taste
Instructions
Preheat your oven to 350 degrees. Grab a head of garlic and remove the skin. Cut it in half so that you're slicing smack through the middle of the cloves. Wrap half of the head in foil and bake it for an hour. When it's cool enough to touch, squeeze the squishy garlic out of the cloves and into a little bowl. Set that gooey goodness aside.
Heat a tablespoon of olive oil in a saucepan over medium heat. Toss in a tablespoon of minced shallots and a quarter teaspoon of crushed red pepper and stir as you cook them for one minute. Add 1/2 cup of quinoa (soak it in water for 10 minutes and drain it well first!) and let it cook for another 2 minutes while you stir. Add a tablespoon of dry white wine and keep stirring until the liquid is absorbed. Add a cup of low-sodium chicken or vegetable broth, and bring the whole thing to a boil. Put a lid on it and let it simmer for 15 minutes or until all of the liquid is absorbed.
Turn off the heat and add the garlic, 1/2 cup of fresh, whole baby spinach leaves, 1/2 cup of seeded and chopped tomatoes, a tablespoon of freshly grated Parmesan cheese, and a bit of salt to taste. Toss it all together and eat it while it's warm, or refrigerate it and eat it cold. It's delicious either way.
This recipe makes four servings, each of which has 130 calories, 5 grams of fat, 4 grams of protein, and 16 grams of carbohydrate.
Quinoa Tabbouleh
Tabbouleh is a classic Middle Eastern salad that's super refreshing. Although it's usually made with bulgur, tabbouleh made with quinoa is just as delicious but carries a lot more nutrients.
Ingredients
1/2 cup water
1/2 cup quinoa (soaked and drained)
3 to 4 cups fresh flat leaf parsley (finely chopped)
1/2 cup fresh mint leaves (finely chopped)
Pint of cherry tomatoes (quartered)
1 large cucumber (seeded and diced)
1/4 cup extra virgin olive oil
1/2 cup fresh lemon juice
1/2 tsp salt
Dash of fresh ground pepper
Pinch of nutmeg
Instructions
While a cup of water is coming to a boil in a saucepan, toss 1/2 cup of soaked and drained quinoa into a small skillet over medium-high heat and stir it around until it smells deliciously nutty and the grains start to pop. Transfer it to the boiling water, lower the heat, cover the pot, and let it simmer for about 15 minutes or until the water is absorbed. Transfer it to a large bowl and let it cool.
Once the quinoa is cool, toss in 3 to 4 cups of fresh, finely-chopped flat-leaf parsley; 1/2 cup of fresh, finely-chopped mint leaves; a pint of quartered cherry tomatoes; and a large cucumber, seeded and diced. Mix it up!
In a small bowl, whisk together 1/4 cup of extra-virgin olive oil, 1/2 cup of fresh lemon juice, 1/2 teaspoon of salt, a dash of fresh ground pepper, and a pinch of nutmeg. Pour it over the salad and mix all together. Try to save some for lunch this week, because it's even tastier after a day or two.
This recipe makes six servings, each of which contains 175 calories, 10 grams of (healthy) fat, 4 grams of protein, and 17 grams of carbohydrate.
Have you ever tried quinoa? What YOUR favorite dish?