Feature Product: HCG Weight Loss Cure Guide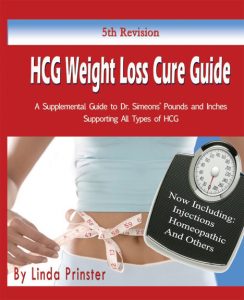 The HCG Weight Loss Cure Guide by Linda Prinster is like having someone by your side to help you through the diet. The basics, which include "About HCG and the HCG Diet Protocol", "Goals of the HCG Diet Protocol", "Summary of a Typical Round", "Conditions Requiring Additional Concern", "Getting Started", "Beware of Roadblocks…These Can Stop You Dead in Your Tracks!", "Best Advice: Be Intentional" and "Additional Resources" will help you tremendously in preparing and knowing what you need to know in order to be successful on the diet. It also contains "Frequently Asked Questions", which help to educate you on the HCG Diet Protocol.
The "Food and Drink Guide" is essential information to help you with what you can eat on each phase of the diet — Very Low Calorie, Maintenance — first 3 weeks, Maintenance — second 3 weeks, and Maintenance — for life. This chart lists over 1,000 foods, drinks, and condiments and indicates which are allowed, cautionary, or unallowed. This guide is easy to use and reference quickly. Plus, it contains "Tasty Tips," "Time Savers, and "HCG Weight Loss Maximizers," plus "HCG Diet Sample Menus" to help you determine what you will be eating ahead of time so you can be intentional and well prepared, keeping you on track so you won't cheat. Use this chart to help you make a list of the specific foods you like before you head to the supermarket.
The "Tools and Resources" section gives you weight charts for both women and men. Using the "Tracking Your Progress Form" is very encouraging when you see how many inches you are losing! You can also keep a record of your weight with the "Daily Weight Log for All Phases" chart.
After losing weight, keeping it off is the next challenge. Chapter 6 covers the Maintenance Phase including "The Philosophy", "The Maintenance Rule," "Sample Maintenance Phase Menus" for the first 3 weeks and second 3 weeks, "Healthy, Safe Maintenance Snacks", "Vegetarian Adaptations for the Maintenance Phase", "Weekly Intake During the Maintenance Phase Form", "Tips and Hints for Success During the Maintenance Phase" and "Most Common Concerns During the Maintenance Phase".
We've also included a copy of Dr. Simeons' Manuscript in which he writes about "Obesity a Disorder" and "The History of Obesity". He goes on to explain the "Three Basic Causes of Obesity" (which include "The Inherited Factor", "Other Diencephalic Disorders" and "The Exhaustion of the Fat-Bank"), "Psychological Aspects", "Reluctance to Lose Weight", and "Not by Weight Alone". He also covers "The Treatment of Obesity", " Curious Observations", "Fat on the Move", "Pregnancy and Obesity", "The Nature of Human Chorionic Gonadotrophin", "The Real Gonadotrophins", "HCG no Sex Hormone", "Importance and Potency of HCG", "Complicating Disorders", and "The 'Pregnant' Male". He continues with "Techniques" including "Warnings", "History Taking", "The Duration of Treatment", "Conditions that must be Accepted Before Treatment", "Starting Treatment", "Interruptions of Weight Loss", "The Skeptical Patient", "Concluding a Course", "Plan of a Normal Course" and his final "Conclusion".
This book also contains a handy "Glossary" at the back of the book to help you understand basic medical terms used to explain the diet.
Get informed inside and out about the HCG Diet today with the HCG Weight Loss Cure Guide.