Heidi's Before and After Pictures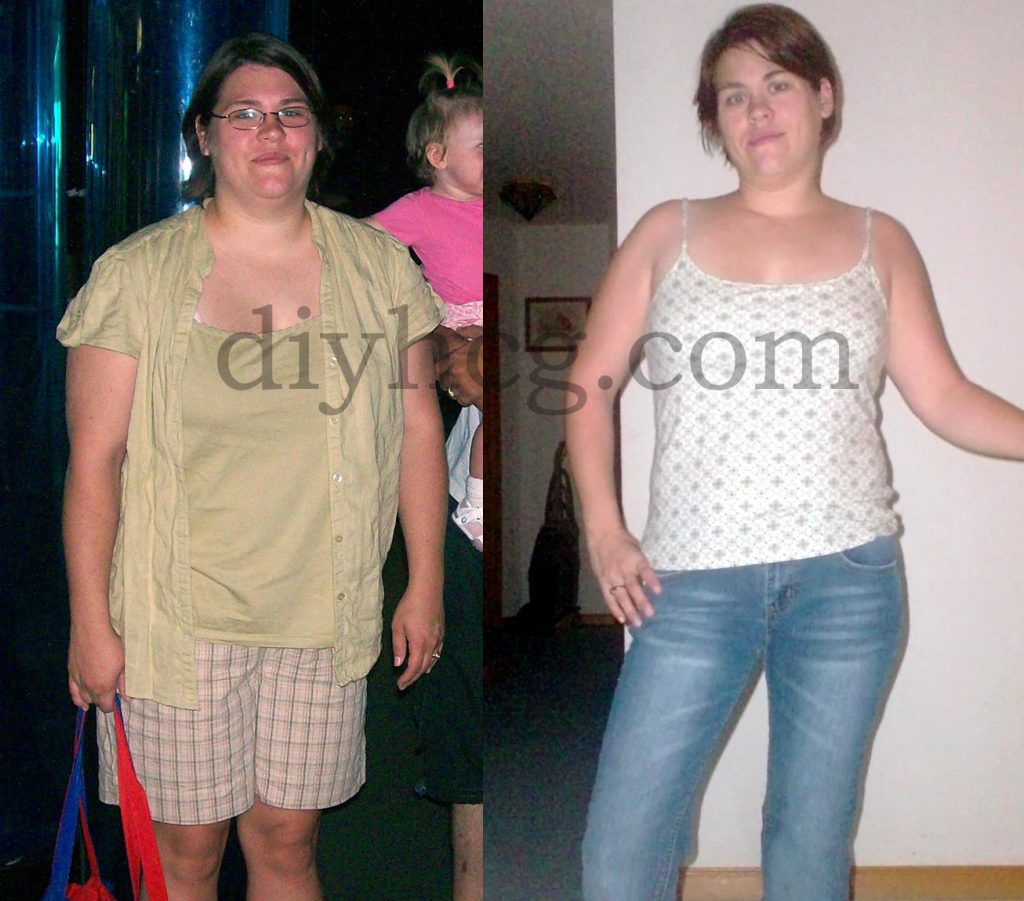 Heidi's Weight Loss Success Story & HCG Diet Review:
As you can see from the above pictures, Heidi did GREAT on the HCG Diet. She lost lots of pounds and inches in a short amount of time with the HCG Diet. Body reshaping is noticeable over her entire body, especially her chin, arms, legs, waist, and hips.
View the rest of our Before and After Stories (including Before and After Pictures) HERE!

Want more success stories? Read what others have said about the DIY HCG Diet below...
"I am excited! Even though I had testimonies from 5 friends, I admit at first I was skeptical that HCG would work for me, since I have screwed up my metabolism trying so many fad diets. To top things off, I joined the HCG yahoo forum were many were putting HCG down and promoting injections; that made me more doubtful. Even though, I went at it full force, all or nothing! I am truly amazed. I am in Round 1 of Phase 2 on Day 14. Though I did not formally take my measurements, I used my belt to note my beginning hole and the hole I want to be at. In 12 days of the very low calorie diet (VLCD), I have released 14.5 pounds, including the 3 I gained during my loading days! My bra needs to be adjusted to the next clasp and my belt; I am 2 holes away from where I started. I am just awestruck. Not only is my weight making me happy but I am watching my shape transform for the better of me rather than self- destruct. I must say it has not been easy, I have had to come to terms with emotional triggers and I find myself hungry in the evenings more than anything. I say hungry because my stomach feels empty, though I am not having cravings, which I describe as an almost uncontrollable desire for a certain food. I am usually a sugar junkie and I have not craved anything sweet at all. I might add, I started one week before my TOM, so I successfully managed the program thru the dreaded TOM. For anyone out there who was like me who read hundreds of postings and sought out many successful stories, HCG from DIY HCG does work. I began wanting to lose 80 lbs. Now I have 65.5 to go and I believe it can happen! Yes I can, Yes I can!!!"     ~Judy D.
"I just turned 49 this month and up until 2 years ago I had always been healthy, on the thin side and had normal blood pressure. For various reasons I had stopped working out and was eating too many of the things I shouldn't eat. That changed when I realized none of my clothes fit and I had gone from a size 2/4 to a size 8. Then, a visit to the doctor revealed a 30+ pound weight gain along with severe rise in my blood pressure! I'm only 5'3", so that 30 pounds really took up some space! The blood pressure issue really scared me as a friend of mine had just suffered a blood pressure related stroke. I knew that I had to get my weight & blood pressure back down to normal! Shortly after this I was at my friend's salon and one of her friends came in & was talking about this HCG Diet she was about to go on. I'd never heard of it, so I asked her to email me the info. I did some research, and then purchased a kit. I received the kit and read every book cover to cover then headed for the grocery store. The "gorge days" sort of threw me, and I don't think that I gorged enough because let me tell you, the first week of the 500 calorie phase I was starving. It was tough not to give up! It felt like I was emailing diyhcg every day! The second week was better and by the third week I was actually enjoying my romaine salads! At the end of the 500 calorie phase I had lost 18 pounds which I have maintained through the 6 week maintenance phase. I am back in my size 4 jeans (the size 2s are still a touch too tight). Most amazingly, after the second week my blood pressure went from 160/100 to 108/65 and has stabilized there. I am starting my second round on Saturday and this time my boyfriend and my daughter are doing it with me! I am looking forward to losing the last 12 pounds and I know that with this plan I can remain my correct weight for the rest of my life! Thanks!"     ~Siri M.