Alicia's Before and After Pictures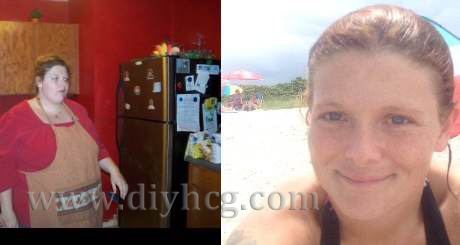 Alicia's Weight Loss Success Story:
Total weight loss of 143 pounds on the HCG Diet!
During her first round of HCG she lost over 40 pounds!
Losing the weight has helped Alicia be more happy, healthy, active, and confidant!
Read Alicia's letter about her HCG weight loss success below:
"Hello!  My name is Alicia K. My step mother and father told me about the HCG Diet two years ago. I told my father "go ahead and starve yourself!"  I saw him a month later and he looked fantastic and said he felt great!  I decided, after struggling with my weight my whole life, to give HCG a try!  I weighed (at my worst) 285 lbs. I did one round of the HCG and lost over 40 lbs!  It was a life style change! After I lost the first 40 I was encouraged and motivated to lose more!  It has been over a year and a half. I have went from 285 to today 142 — I lost half my weight!  I owe this to DIY HCG!!!
I am now in super health, active, confidant, and proud!  I have maintained (kept off) this weight due to the changes the HCG Diet helped me set!! I couldn't be happier!!  Thank you so much!!  I have attached a photo, for you must see to believe!
Anyone that has asked me how I did it, I always tell them...it was due to DIY HCG!!"
~Alicia K.
View the rest of our Before and After Stories (including Before and After Pictures) HERE!