Shrimp and Tomato Kabobs
Phase: Low Calorie Phase Course: Main Course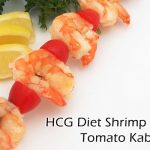 HCG Diet Phase 2 Recipe: Shrimp and Tomato Kabobs
This recipe counts as 1 protein serving, 1 vegetable serving, and part of your daily allotted lemon juice. You are allowed the juice of 1 lemon per day. If you have already had the allowed amount for the day, just omit lemon juice from the recipe.
Keyword:
entree, HCG Diet, HCG Phase 2, shrimp, tomatoes
Ingredients
100 grams (3.5 ounces)

shrimp*

¼

cup

tomatoes

(preferably cherry or grape tomatoes)

sea salt

(to taste)

freshly ground black pepper

(to taste)

½

freshly squeezed lemon**

Simple Girl Lemon Herb Seasoning

(optional)***
Instructions
If you have fresh or non-precooked shrimp simply boil the shrimp to thoroughly cook before grilling. Large-sized shrimp take about 5-7 minutes to boil, medium-sized shrimp take about 3-4 minutes to boil.

Slice your tomatoes in half. We recommend using grape or cherry tomatoes because they hold-up better during the cooking process. If using grape tomatoes or cherry tomatoes, simply cut in half and set aside. If you do not have smaller tomatoes, and only have a large tomato, simply cut into quarters with the skin on.

Prepare your metal or wood skewers. (If using wood skewers, make sure they were soaked in water for a least one hour before use to avoid the risk of catching fire on the grill).

Alternating the shrimp and tomato pieces, place them on the skewers.

Sprinkle the skewers with your chosen HCG Diet safe seasoning. We recommend using the Simple Girl Lemon Herb Seasoning. It has a combination of herbs and citrus that will bring out the best flavor in this grilled kabob recipe.

Grill each skewer over medium heat for 2-3 minutes for each side. Be careful when positioning to avoid smashing or breaking the tomatoes. Since the shrimp is already cooked, the goal is to soften the tomatoes and add some 'grilled' flavor.

Preheat an indoor or outdoor grill for about 2-3 minutes.

Place the skewers on the hot grill until done, approximately 2-3 minutes per side.

Remove from grill and squeeze lemon juice over the top of the shrimp.

Serve with lemon wedges, if desired. Enjoy!
Recipe Notes
Store any left overs in an air-tight container in the refrigerator. This is also a great make-ahead recipe to use while on the HCG Diet... simply grill up a batch of skewers at the beginning on the week, slide the grilled shrimp and tomatoes off the skewers into a dish with a lid and place in the fridge for a quick, grab-and-go lunch.
*Make sure you have the correct type of shrimp. We recommend using pre-cooked, medium-size shrimp (in the frozen food section). 
**It is important to used freshly squeezed lemon juice over the store-bought lemon juice because it usually contains preservatives that could slow or stall your weight loss. Always buy fresh lemons and squeeze your own lemon juice while on the HCG Diet.
***Not all seasonings are safe for Phase 2 of the HCG Diet. Check the ingredients and avoid anything containing sugar, starches, oils, preservatives, and words ending in -ose, -tol, or -dextrin. The Simple Girl Seasonings were created especially for the HCG Diet. They are gluten free, fat free, preservative free, contain no sugar or artificial sweeteners and are sweetened exclusively with HCG Diet approved stevia.