Lemon Herb Fish on Lettuce
Phase: Low Calorie Phase Course: Main Course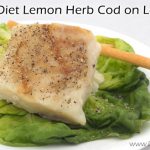 HCG Diet Phase 2 Recipe: Lemon Herb Cod on Lettuce
This HCG Diet recipe is safe for Phase 2 of the HCG Diet and counts as 1 protein serving, 1 vegetable serving, 1 carb serving, and some of your daily allotted amount of lemon juice. You are allowed the juice of one lemon per day. If you have already reached that amount of lemon juice, just omit from the recipe.

Keyword:
500 Calorie Phase, cod, fish, HCG Diet, HCG Phase 2, lemon, lettuce, main course
Ingredients
100

grams

(3.5 ounces) fresh white fish

2

tbsp

lemon juice*

separated

1

tbsp

oregano

⅛

tsp

sea salt

⅛

tsp

black pepper

1

grissini breadstick

3-4

large

lettuce leaves
Instructions
Cut the lettuce into large pieces. You may use any type of lettuce, for this recipe we used romaine and it turned out amazing. Remember to wash and dry your lettuce before use, especially if you do not buy organic.


Preheat the oven to 400 degrees F. Cut a large, square sheet of aluminum foil, lay out flat, and place your raw fish in the center. For this recipe we used cod, but you could use any type of fresh white fish, such as sea bass, burbot, pock, tilapia, whiting, or orange roughy.


In small bowl, combine 1 tablespoon of the lemon juice, oregano, sea salt and pepper. Stir well.


Pour the lemon/spice mixture over fish.


Fold up edges of the aluminum foil and seal the foil in a pouch-like manner.


Bake at 400 degrees for 10-20 minutes or until fish flakes.


Remove from heat and let cool slightly before opening the foil pouch.


Place lettuce on a serving plate, top with cooked fish, and the pour the other 1 tablespoon of lemon juice on top.

Recipe Notes
Want more flavor?
Top this recipe with the Simple Girl Lemon Herb Seasoning. It's gluten free, fat free, preservative free, and contains no sugar or artificial sweeteners, and is sweetened exclusively with stevia. This seasoning is perfect for pairing with chicken or fish (like in this recipe) and it's safe for all phases of the HCG Diet! Buy the Simple Girl Lemon Herb Seasoning in the gourmet set or alone.
*It is important to used fresh-squeezed lemon juice over the store-bought lemon juice because it usually contains preservatives that could slow or stall your weight loss. Always buy fresh lemons and squeeze your own lemon juice while on the HCG Diet.