Peppercorn Steak with Tomato
Phase: Low Calorie Phase Course: Main Course, Side Dish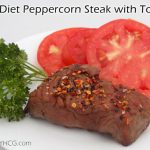 HCG Diet Phase 2 Recipe: Peppercorn Steak with Tomato
This recipe is allowed on Phase 2 of the HCG Diet and counts as 1 meat serving, 1 vegetable serving, and part of your daily allotted amount of lemon juice. You are allowed the juice of 1 lemon per day. If you've already used your lemon for the day, omit this portion of the recipe.
Try this amazing recipe for the HCG Diet! We love this recipe... the spiciness of the peppercorns is a nice switch from the normal bland-tasting recipes you find on the web. Bon Appètit!
Keyword:
entree, HCG Diet, HCG Phase 2, spicy, steak, tomatoes
Ingredients
100

grams (3.5 ounces)

lean steak

1

tsp

fresh-squeezed lemon juice

⅛

tsp

sea salt

⅛

tsp

freshly ground black pepper

½

tsp

Simple Girl Steak Seasoning

1

medium-sized

tomato or 2 small Roma tomatoes
Instructions
Brush both sides of the meat with the freshly squeezed lemon juice.

Combine the salt, pepper, and Simple Girl Steak Seasoning into a small bowl to make a 'spice rub'. Then, rub the combined spices on both sides of the raw meat. Press gently to ensure the spices are sticking well to the meat, if not the spices may dust off during the cooking process.

Slice the raw tomato and serve with the steak.

If you want added flavor on your tomato serving, simply slice and grill for a few minutes alongside your steak. We used an indoor George Foreman style grill, but an outdoor flame grill would work too.

Precook your grill for about 3-4 minutes to ensure good char. Place your steak on the grill and flip when ready. Cook the meat to your preferred level of 'doneness'.

Remove from grill and allow to cool for 2-3 minutes before eating or slicing.
Recipe Notes
This is also a great recipe for make-ahead meals. Simply measure the meat into 100 gram portions before cooking, spice as desired, and grill all at one time... saving you cooking and clean-up time. Store the meat in an air-tight container in the fridge. Perfect for lunches or a grab-and-go meal when having a busy night.
*Make sure you have the correct type of steak for Phase 2 of the HCG Diet plan. It is recommended to use extra lean steak with no more than 7% fat. The best types of steaks are filet mignon, flank steak, T-bone, top round, top sirloin, and tenderloin.
**It is important to used freshly squeezed lemon juice over the store-bought lemon juice because it usually contains preservatives that could slow or stall your weight loss. Always buy fresh lemons and squeeze your own lemon juice while on the HCG Diet.
***You can substitute the steak seasoning with red hot pepper flakes but... it won't taste as good. Not all seasonings are safe for Phase 2 of the HCG Diet. Check the ingredients and avoid anything containing sugar, starches, oils, preservatives, and words ending in -ose, -tol, or -dextrin. The Simple Girl Seasonings were created especially for the HCG Diet. They are gluten free, fat free, preservative free, contain no sugar or artificial sweeteners and are sweetened exclusively with HCG Diet approved stevia.