Spinach and Egg Omelet for the HCG Diet (Phase 2)
Phase: Low Calorie Phase Course: Main Course
This recipe for a spinach and egg omelet for the HCG Diet is a vegetarian recipe. Dr. Simeons permitted vegetarians to substitute the 3.5 oz serving of beef/chicken/fish with 100 grams of non-fat cottage cheese or one whole egg plus 3 additional egg whites. This particular recipe substitutes 1 of the egg whites with 2 tablespoons of non-fat cottage cheese. Please know that Dr. Simeons' experience showed that vegetarians modifying their diet in this way lost weight slower than non-vegetarians who followed the basic protocol. Hence, if you are not a vegetarian, don't use this recipe often, only occasionally when you need to mix things up to avoid boredom!
Occasionally, people will contact us to tell us that this recipe is not according to protocol since we are mixing the types of protein - eggs and cottage cheese.  Dr. Simeons applied the phrase, "one type only" to vegetables since the vegetable serving sizes are not set. However, the protein and fruit options are set and, consequently, we understand that the protein and/or fruit can be mixed as long as they are in the exact, limited portions.
For further explanation, please read Mix it up? Mixing Fruits and Meats on the HCG Diet.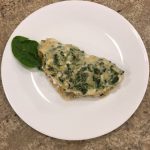 Spinach and Egg Omelet for the HCG Diet Phase 2
Keyword:
500 Calorie Phase, eggs, HCG Diet, HCG Phase 2, Low Calorie Phase, spinach, VLCD Phase
Ingredients
1

cup

baby spinach

1

whole egg

2

egg whites

1

tbsp

water

1/4

tsp

onion powder

Dash

garlic salt

Dash

salt & pepper (to taste)

2

tbsp

fat free small curd cottage cheese
Instructions
Chop baby spinach coarsely.

Whisk together egg, egg whites, and water.

Add onion powder, salt, pepper and whisk a bit more.

Put 1 tablespoon chicken broth or water into a small non-stick pan and heat over medium heat. Add chopped spinach.

Season with salt and pepper, stirring for 60 seconds until spinach leaves are tender and wilted.

Pour in egg mixture and cook until almost set.

Lightly lift up the perimeter of the omelet with a spatula, letting uncooked egg mixture run underneath.

Spread the cottage cheese on one side of the omelet.

Fold the other side over onto itself, covering the cottage cheese.

Remove to a serving plate and enjoy!
Recipe Notes
Since there is not a limit on how much of the green vegetable you may have at mealtime, feel free to eat more spinach, either cooked or raw topped with an HCG-safe salad dressing, as a side dish with your omelet.