Chicken Salad
Phase: Maintenance Phase Course: Main Course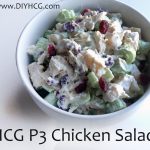 HCG Diet Phase 3 Recipe: Chicken Salad with Cranberries & Celery
This HCG Diet maintenance recipe includes mayo, which is considered a cautionary food during the first 3 weeks of HCG maintenance, so be careful not to eat too much in one day and monitor with morning weigh-ins to see if it affects you. This recipe is perfectly fine for the 2nd 3 weeks of HCG maintenance.
What people have said about this HCG Diet Phase 3 recipe...
"I love the tartness of the cranberries. It makes the usually boring boiled chicken breast taste good!"
"The creamy texture is not something you really get while dieting, I love it!"
"Perfect for a quick dinner, and then leftovers for lunch."
Keyword:
apple cider vinegar, celery, chicken, cranberries, HCG Phase 3, main course, Maintenance Phase, mayonnaise, mustard, onion
Ingredients
4

boneless, skinless chicken breasts,

cooked

6

celery stalks

2

cans water chestnuts

½

cup

dried cranberries

⅔

cup

real mayonnaise

½

cup

sour cream

2

tbsp

Dijon mustard

3

tbsp

lemon juice

2

tbsp

apple cider vinegar

¼

tsp

sea salt

½

tsp

black pepper

1

tbsp

powdered stevia

½

tsp

celery seed

¼

cup

green onions,

thinly sliced
Instructions
If you do not have any left-over boneless skinless chicken breasts, pre-cook chicken with any method you choose, boiling is usually easiest. Let cool completely before making this recipe.

Dice the cooked (and cooled) chicken breast into ½-inch pieces.

Chop the celery across the bias into small moon shapes.

Chop the water chestnuts (if you bought whole).

Combine the diced chicken, celery pieces, water chestnuts, and cranberries into a large bowl, set aside.

In a small bowl, whisk together the mayonnaise, sour cream, Dijon mustard, lemon juice, and apple cider vinegar with a whisk until smooth.

Add celery seed and green onions and stir.

Pour the mayonnaise spice mixture over the chicken mixture and stir until everything is thoroughly coated.

For best results, chill for at least 30 minutes before serving. Enjoy!