3 Healthy HCG Crock Pot Recipes to Make for Dinner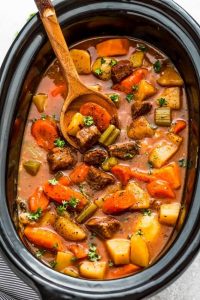 Nothing's worse than the dreaded dinnertime conversation: What do you want for dinner? I don't know, what do you want? I don't know, what sounds good? I don't know, what sounds good to you? As if it's not bad enough trying to come up with something to eat, you then have to contend with a trip to the grocery store, and then you've got to actually cook up the vittles.
Are you ready to make your life a hundred times easier by ending the conversation, planning ahead, and letting your slow cooker do all the work for you? If so, read on for three delectable slow-cooker recipes that are easy, healthy, and super-delish.
Spicy Black-Eyed Peas
This delicious dish is packed with protein and is great served over a bed of rice — use your rice cooker or the microwavable rice pouches in the frozen food section for fast rice done right.
Ingredients
1 chicken bouillon cube
1 lb dried black-eyed peas
1 diced onion
1 diced red bell pepper
1 minced jalapeno
2 cloves of garlic, minced
8 ounces diced ham
6 slices bacon, chopped
½ tsp cayenne pepper
1½ tsp cumin
ground pepper, to taste
1 tsp. salt or to taste
Instructions
Get out your slow cooker, and pour in six cups of water.
Dissolve a chicken bouillon cube in the water.
Toss in a pound of dried black-eyed peas, sorted and rinsed.
Add onion, bell pepper, jalapeno, garlic, ham, bacon, cayenne pepper, cumin, and pepper and salt to taste.
Cook these babies on low for six to eight hours. Mmmmm.
Savory Beef Stew
This classic dish is as good for the soul as it is for the body. Root vegetables and tender beef flavor a thick broth that's as comforting as being hugged tight against your old granny's bosom. 
Ingredients
2 lbs beef stew meat
¼ cup flour
½ tsp salt
½ tsp pepper
6 cloves of garlic, minced
1 bay leaf
1 tsp paprika
1 tsp Worcestershire sauce
1 chopped onion
3 potatoes, diced
4 carrots, sliced
1 cup butternut squash, chopped
1 stalk of celery, chopped
Instructions
Toss two pounds of beef stew meat, cut into one-inch cubes, into your slow cooker.
In a small bowl, mix together ¼ cup flour and a ½ teaspoon each of salt and pepper.
Pour this over the beef, and stir to coat.
On top of that, add the minced garlic, bay leaf, paprika, Worcestershire sauce, onion, potatoes, sliced carrots, butternut squash and celery.
Cook on low for 10 to 12 hours, or do it up on high for four to six hours.
Serve with some crusty bread and a rich bottle of red.
Chicken Chili with Sweet Corn
This simple dish features lean protein and vitamin-packed pinto beans. Look for antibiotic- and hormone-free chicken.
Ingredients
4 skinless, boneless chicken breasts
1 jar salsa
2 tsp garlic powder
2 tsp ground cumin
2 tsp chili powder
1 tsp salt
½ tsp pepper
Instructions
Place four skinless, boneless chicken breast halves in the slow cooker.
Pour a 16-ounce jar of salsa over the top.
Sprinkle in two teaspoons each of garlic powder, ground cumin, and chili powder; a teaspoon of salt; and a ½ teaspoon of pepper.
Cook for six to eight hours on low.
An hour or so before it's done cooking, use two forks to shred the chicken. You may also shred chicken in a mixing bowl with a hand mixer.
Stir in a can of Mexican-style corn and a can of pinto beans, drained.
Finish cooking.
Serve it up in bowls with flour tortillas on the side and a variety of garnishes, like chopped jalapenos and onions, grated cheese, sour cream, and cilantro.
Your slow cooker can be an incredible time saver if you plan ahead, and eating healthy food is easy when it's such a piece of cake to cook. Commit to your Crock Pot, and you'll never have to ask each other what's for dinner again.