Cajun Chicken Asparagus Soup (Phase 2)
Phase: Low Calorie Phase Course: Main Course, Soup
This Cajun Chicken Asparagus Soup recipe is safe for Phase 2 of the HCG Diet and counts as 1 meat serving and 1 vegetable serving while on the low-calorie phase of the HCG Diet.
If you want to change things up a bit, this is definitely a different, but great way to eat chicken and asparagus. It's delicious and perfect for a day when there is a chill in the air.
The Simple Girl Hot Sauce can be purchased in our online store.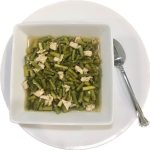 Cajun Chicken Asparagus Soup (Phase 2)
Course:
Main Course, Soup
Cuisine:
American, fall, HCG Diet
Keyword:
asparagus, chicken
Ingredients
1/4

crushed garlic clove

1/4 tsp jarred minced garlic may be substituted.

1

cup

water

100

grams

skinless chicken breast

1/2

bunch

fresh asparagus 1 small box frozen asparagus

1/2

tsp

Simple Girl Hot Sauce or Frank's Hot Sauce

1/4

tsp

Tony Chachere's Creole Seasoning
Instructions
Place crushed garlic, chicken, and water in a pot.

Simmer until chicken is cooked.

After the chicken is cooked, remove and cut it into ½ inch cubes. Let the broth in the pot.

Return the chicken into the broth.

Wash the asparagus, cut it into 1-inch pieces and add it to the broth.

Add the remaining ingredients and continue to simmer for 30 more minutes.

Pour into a bowl and serve with a grissini breadstick.