Veal Parmesan
Phase: Low Calorie Phase Course: Main Course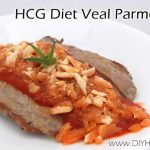 HCG Diet Phase 2 Recipe: Veal Parmesan
This recipe is safe for Phase 2 of the HCG Diet and counts as 1 vegetable serving, 1 'carb' serving, and 1 meat serving.
Did you know veal is allowed on the HCG Diet?
Cuisine:
American, Italian
Keyword:
entree, HCG Diet, HCG Phase 2, main course, tomato sauce, veal
Ingredients
100

grams (3.5 ounces)

lean veal

8

ounces

sugar-free tomato sauce*

⅛

tsp

fine sea salt

⅛

tsp

freshly ground black pepper

⅛

tsp

basil

(fresh or dried)

⅛

tsp

oregano

(fresh or dried)

1

grissini breadstick

(any flavor)
Instructions
Trim any visible fat off the meat.

Preheat a non-stick pan or grill** to medium heat.

Season both sides of the veal with the fine sea salt and black pepper.

When the pan or grill is warm; add the veal.

Once the veal is ready; flip and allow the other sides to sear.

Continue to cook until the meat has reached an internal temperature of 145 degrees F for medium rare, 160 degrees F for medium, or 170 degrees F for well done.

While the veal is cooking; place a small pot on the stove over medium heat.

Add the sugar-free tomato sauce, basil, and oregano. If using fresh spices, make sure to mince before adding. Stir well.

Once the veal is cooked and the sauce is warmed; pour the tomato sauce over the veal.

Place a grissini breadstick into a zip-top bag and crush until it is the consistency of breadcrumbs.
Recipe Notes
Don't like veal? Feel free to switch out the protein serving for other lean meats allowed on the HCG Diet, such as thinly pounded boneless, skinless chicken breast or a thin steak for the same flavor. Enjoy!
*Most store-bought tomato sauces contain sugar, preservatives, or other ingredients that could stall your weight loss. Analyze the ingredients before purchase. Avoid oil, starches, sugar, hard preservatives, chemicals, and words ending in -ose, -tol, or -dextrin. If you are unable to find an approved brand of tomato sauce.
**Remember the use of any oil or cooking spray is a no-no while on the HCG Diet. Make sure all of your cooking surfaces are non-stick. If you do not have a non-stick grill or pan; you can adapt this recipe by baking the veal in the oven.