HCG Diet Fruit Smoothie (Phase 2)
Phase: Low Calorie Phase Course: Beverage, Breakfast, Dessert, Side Dish, Snack
This HCG Diet Fruit Smoothie recipe for Phase 2 is great for one of those days when you want to "treat yo self" (AND you're still allowed a fruit serving for the day!)
Stevia and Monk Fruit can be purchased in our online store.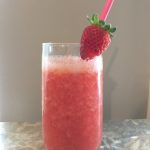 HCG Diet Fruit Smoothie (Phase 2)
Course:
Breakfast, Dessert, Drinks, Side Dish, Snack
Cuisine:
American, HCG Diet
Keyword:
500 Calorie Phase, HCG Diet, HCG Phase 2, orange, Strawberries
Ingredients
½

handful

strawberries

fresh or frozen

1

tbsp

water

½

orange

1

cup

crushed ice

3

drops

Vanilla Creme Stevia or French Vanilla Monk Fruit

3

drops

Clear Stevia or Unflavored Monk Fruit

3

drops

Valencia Orange Stevia
Instructions
Cut the orange half into chunks and place them into the blender with 1 tbsp water.

Blend, then add flavor drops, crushed ice, and strawberries.

If the strawberries are frozen, you may need to add a little more water.

Blend all ingredients until smooth.

Pour into a 10 oz glass and enjoy.

This smoothie serves as 1 fruit.*
*Occasionally, people will contact us to tell us that this recipe is not according to protocol since Dr. Simeons said, "The whole daily ration of two breadsticks or two fruits may not be eaten at the same time, nor can any item saved from the previous day be added on the following day." However, he wasn't stipulating that two types of fruit couldn't be eaten at the same time, but rather that the two fruit servings for the day couldn't be eaten at the same time.
This is confusing to dieters since Dr. Simeons did specifically instruct dieters to choose "one type of vegetable only" from his list of 13 allowable vegetables for each meal but this is because the vegetable selection is not limited to a specific serving size.
Again, he didn't apply this phrase, "one type only" to the protein nor fruit options since their serving sizes are set and, consequently, we understand that the protein and/or fruit can be mixed as long as they are in the exact, limited portions.
For further explanation, please read Mix it up? Mixing Fruits and Meats on the HCG Diet.