Chicken Tacos
Phase: Low Calorie Phase Course: Main Course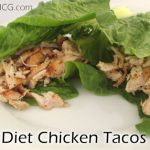 HCG Diet Phase 2 Recipe: Chicken Tacos
This HCG Diet recipe is safe for Phase 2 of the HCG Diet and counts as 1 protein serving,1 vegetable serving and some of your daily allotted lemon juice. You are allowed the juice of one lemon per day. If you have already reached that amount of lemon juice, just omit from the recipe.
Enjoy this recipe for "Taco Night" on the HCG Diet, super low calorie and super yummy!
Cuisine:
American, Mexican
Keyword:
500 Calorie Phase, chicken, cilantro, garlic, HCG Diet, HCG Phase 2, lettuce, main course
Ingredients
100

grams (3.5 ounces)

boneless,

skinless chicken breast

1

tsp

onion powder*

1

clove

fresh garlic,

minced**

⅛

tsp

oregano

¼

tsp

cayenne pepper

⅛

tsp

ground cumin

4

large

lettuce leaves

½

lemon

2

tbsp

fresh cilantro, chopped
Instructions
Cut any visible fat off the raw chicken breast.


Place a pot of water on the stove to boil.


Once boiling, add the raw chicken meat. Turn the temperature down to low, cover, and allow to cook 3-5 minutes.


After the chicken is cooked (reached an internal temperature of 165 degrees F), remove from boiling water and set aside to cool.


While the chicken is cooling, prepare the lettuce leaves. You can use any type of large lettuce leaves. We used romaine lettuce for this recipe and it turned out well. Wash and dry the lettuce. This is especially important if you do not buy organic lettuce.


Lay the lettuce leaves out on a plate and set aside.

Once the chicken has cooled, use your hands to shred the chicken into small bite-sized pieces.


Place the shredded chicken on a small non-stick pan on low-medium heat.


Add the above spices: onion powder, minced garlic, oregano, cayenne pepper, and cumin. Stir well.

Continue to heat until the mixture is warm. Since the chicken is already cooked it shouldn't take more than 3-5 minutes. If you're having an issue with the meat sticking to the bottom of the pan, add a tablespoon or so of water.

Place the chicken mixture in the center of the lettuce leaves.

Sprinkle the fresh cilantro on top of the tacos.

Squeeze fresh lemon juice over the top of the tacos.

Eat with your hands like tacos and enjoy!
Recipe Notes
*Check the ingredients of the onion powder as some brands of onion powder can contain unallowed ingredients such as -dextrose. Avoid any onion powder brand with words ending in -ose, -tol, or -dextrin. 
**While on the HCG Diet you should always mince fresh garlic rather than pre-minced garlic from the grocery store. Most pre-minced garlic contain preservatives. Be on the safe side... mince your own fresh garlic cloves for the best possible weight loss.
***It is important to used freshly squeezed lemon juice over the store-bought lemon juice because it usually contains preservatives that could slow or stall your weight loss. Always buy fresh lemons and squeeze your own lemon juice while on the HCG Diet.