Spaghetti made with Miracle Noodles
Phase: Maintenance Phase Course: Main Course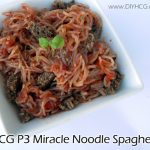 HCG Diet Phase 3 Recipe: Miracle Noodle Spaghetti
This delicious HCG Diet Maintenance spaghetti recipe uses zero-calorie miracle noodles and is safe for the first 3 weeks of HCG Phase 3 and beyond, assuming you use a tomato sauce that does not contain sugar.
Keyword:
ground beef, HCG Phase 3, main course, Maintenance Phase, miracle noodles, onion, parmesan, spaghetti, tomato sauce
Ingredients
1

(8-9 ounce)

bag of shirataki noodles*

1

lb lean ground beef

(we use 90/10)

16

ounces

Simple Girl Tomato Italiano Sauce or sugar-free tomato sauce

½

small onion

1

clove

fresh garlic

2

tsp

dried oregano

1

tsp

mixed Italian seasoning

1

tsp

dried basil

freshly-cracked black pepper

(to taste)

sea salt

(to taste)

2

fresh basil leaves for garnish

Parmesan cheese,

optional
Instructions
Chop the onion into ½-inch size pieces, breaking apart each layer.

Mince the garlic into very small pieces. You are allowed to use store-bought minced garlic while on HCG Phase 3.

To cook the lean ground beef, heat a medium-sized, non-stick skillet on medium heat, spray with non-stick cooking spray, if needed.

Add the raw ground beef to the pan and gently break the meat apart using a spatula.

As the meat cooks, continue to break it apart until you are left with several small pieces.

Once the meat is cooked thoroughly, transfer to a large pot (not heated yet). Cover and set aside.

Place the same skillet used to cook the meat back on the stove over medium heat.

Add the pieces of garlic and onion. Sauté until they are softened and add them to the meat.

Place the large pot containing the cooked meat, onions, and garlic over medium-high heat.

Add your low-sugar type of tomato sauce and all the spices: oregano, Italian seasoning, basil, salt and pepper and stir well.

Cover and let cook for about 4-6 minutes, stirring occasionally.

Remove the mixture from the heat and add the prepared miracle noodles. Stir well.

Do not add the miracle noodles too soon or they may become tough.

Garnish with fresh basil and enjoy!
Recipe Notes
Feel free to sprinkle with fresh-grated Parmesan cheese or more spices. This recipe makes about 3 servings.
*If you are unfamiliar with miracle noodles, they are a calorie-free type of noodle that is also wheat-free, gluten-free, fat-free, sugar-free and nearly carbohydrate-free. These noodles are perfect for Phase 3 of the HCG Diet. Each brand is a little different, so follow the instructions located on your specific brand of miracle noodles or to watch of video of how we prepare our brand of miracle noodles click here. Find the brand of miracle noodle we recommend here.