Shrimp and Cucumber Salad
Phase: Low Calorie Phase Course: Main Course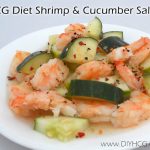 HCG Diet Phase 2 Recipe: Shrimp and Cucumber Salad
This recipe is safe for Phase 2 of the HCG Diet and counts as 1 protein serving, 1 vegetable serving, and part (or all) of your daily allotted lemon juice. You are allowed the juice of one lemon per day. If you have already reached that amount of lemon juice, just omit from the recipe.
Make sure you have the correct type of shrimp. We recommend using pre-cooked, medium-sized shrimp (in the frozen food section). If you have fresh or non-precooked shrimp, simply boil the shrimp to cook them. You can tell they're done when they turn pink and float to the top. Large-sized shrimp takes about 5-7 minutes to boil, medium-sized shrimp takes about 3-4 minutes to boil. If you have frozen shrimp, make sure it's thawed before use.
Course:
Main Course, Salad
Keyword:
entree, garlic, HCG Diet, HCG Phase 2, lemon juice, salad, shrimp
Ingredients
100

grams (3.5 ounces)

shrimp

2

cloves

fresh garlic

minced*

½

lemon,

freshly squeezed**

¼

tsp

ground turmeric

¼

tsp

crushed red pepper flakes

¼

tsp

fine sea salt

½

tsp

freshly cracked black pepper
Instructions
Wash your cucumber before chopping, especially if you do not buy organic cucumbers. If covered in a waxy coating, you may want to peel the cucumber before using it in this recipe to avoid consuming pesticides and other chemicals.


Mix together the lemon juice, minced garlic, black pepper, sea salt, turmeric, and red pepper flakes in a medium-sized bowl.


Place the shrimp in the lemon juice/spice mixture, cover, and refrigerate for about 1 hour to allow the mixture to chill and for the spices to combine.


Once time is up, remove the bowl from the fridge.


Chop cucumber into bite-size pieces (about ¼-inch) and then add to shrimp mixture.


Add more freshly squeezed lemon juice over the top, if desired.
Recipe Notes
*While on the HCG Diet you should always mince fresh garlic rather than using pre-minced garlic from the grocery store. Most pre-minced garlic contain preservatives. Be on the safe side... mince your own fresh garlic cloves for the best possible weight loss.
**Do not use store-bought lemon juice as it usually contains preservatives that could slow or stall your weight loss. Always squeeze your own while on Phase 2 of the HCG Diet.