Chicken and Apples with Rosemary (Phase 2)
Phase: Low Calorie Phase Course: Main Course
This recipe for Chicken and Apples with Rosemary is delicious and safe for Phase 2 of the HCG Diet. This recipe counts as 1 meat serving, 1/2 fruit serving, and 1 vegetable serving while on the low-calorie phase of the HCG Diet.
The Simple Girl Bouillon Base can be purchased in our online store.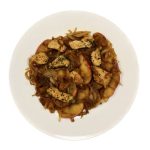 Chicken and Apples with Rosemary (Phase 2)
Cuisine:
American, fall, HCG Diet
Keyword:
apple, chicken, rosemary
Ingredients
1/2

cup

hot water

1/4

tsp

Simple Girl Dry Bouillon

1

medium sweet onion, thinly sliced

1/2

red apple, sliced

100

grams

skinless chicken breast, cut into 1-inch strips

1/2

tsp

heaping teaspoon fresh rosemary, finely chopped

salt and pepper to taste

1

tsp

apple cider vinegar
Instructions
Dissolve ¼ teaspoon of Simple Girl Dry Bouillon Base into ½ cup boiling water. (You may substitute 1/2 cup chicken broth in place of the hot water and Simple Girl Dry Bouillon.)

Pour half of that mixture into a sauté pan, rereserving the other half

Heat the bouillon mixture over medium-high heat.

Add apple and onion slices and sauté until slightly brown and soft, about 4 minutes.

In the meantime, sprinkle the chicken with half of the rosemary, salt and pepper.

Move the apple and onion over to the sides of the pan and add the chicken strips to the middle of the pan.

Brown both sides of the chicken, about 7 minutes.

You may add the reserve bouillon mixture if you need to during the browning process.

Add the vinegar, remaining rosemary and remaining bouillon mixture.

Cover the pan and reduce heat to simmer and cook for 5 more minutes.

Serve with the extra pan juices poured over top the chicken, onion and apples; you won't want to miss a drop!