Iced Cappuccino
Phase: Low Calorie Phase Course: Beverage, Breakfast, Snack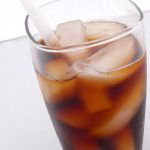 HCG Diet Phase 2 Recipe: Iced Cappuccino
This recipe does not count as any type of serving (unless you add milk), so you can have unlimited quantities of this drink while on Phase 2 of the HCG Diet.
Keyword:
500 Calorie Phase, cappuccino, chocolate stevia, coffee, english toffee stevia, HCG Diet, HCG Phase 2, iced
Ingredients
1

cup

ice

1

cup

coffee,

unflavored*

5

drops

English Toffee SweetLeaf® stevia

5

drops

Chocolate SweetLeaf® stevia
Instructions
Brew a cup of plain, unflavored coffee.


After brewing the coffee, allow it to cool. Do not add ice to try to make the coffee forcibly cooler because it will 'water-down' the recipe and it will not taste as good.


If you want to make a true 'cappuccino' add all the ingredients into a blender and pulse until well combined.

Pour into large glass, serve. Enjoy!
Recipe Notes
*Flavored coffee is not allowed because is usually contains ingredients that can cause slower weight loss or stalls.
**When choosing the stevia for this recipe... many store-bought brands of stevia are stevia 'blends'. Only 'pure' stevia is recommended for Phase 2 of the HCG Diet. SweetLeaf® stevia is the brand we recommend and it's allowed in any quantity. If you do not have SweetLeaf® stevia, look at the ingredients and if you see any words ending in -ose, -tol, or -dextrin, avoid using that type of stevia during Phase 2 of the HCG Diet.
Recipe Variations
You are allowed 1 tbsp of milk per day while on the HCG Diet. If you have not already used your allowed portion of milk for the day, you may add it to this recipe. Remember, the type of milk is not necessarily restricted to dairy milk. Feel free to use unsweetened, unflavored varieties of almond milk, soy milk, rice milk, etc., if desired.
Feel free to mix-up the flavors of stevia listed in this recipe. We've also made this recipe with combinations of Chocolate Raspberry stevia, Chocolate stevia, English Toffee stevia, Hazelnut stevia, Peppermint Mocha stevia, Pumpkin Spice stevia (tastes like Starbucks!), and the Vanilla Crème stevia. See all of the flavors of stevia we offer and try mixing and matching them in this recipe and other recipes.