Blackened Salmon with Mashed Sweet Potatoes and Side Salad
Phase: Maintenance Phase Course: Main Course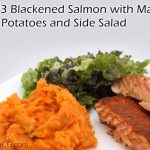 HCG Diet Phase 3 Recipe: Blackened Salmon with Sweet Potatoes and Side Salad
This HCG Diet Maintenance recipe is only safe for the 2nd 3 weeks of HCG Phase 3 and beyond. This recipe NOT safe for the 1st 3 weeks of HCG Phase 3, because of the starch in the sweet potato.
This recipe is full of healthy fat and perfect for maintaining weight loss on Phase 3 of the HCG Diet. We hope you like it!
Keyword:
entree, HCG Phase 3, main course, Maintenance Phase, salmon, sweet potatoes
Ingredients
Salmon
4

oz

salmon fillet

(wild-caught preferred)

¼

tbsp

paprika

¼

tbsp

cayenne pepper

¼

tbsp

garlic powder

½

tsp

black pepper

½

tsp

salt

1

tbsp

butter

(to flavor salmon)

1

tbsp

butter

(for cooking)
Mashed Sweet Potatoes
1

sweet potato

1

tsp

milk

(2% fat)

salt

(to taste)

pepper

(to taste)
Instructions
Salmon
Preheat oven to 350 degrees F.

Combine the spices for the salmon together in a small bowl, set aside.

Melt 1 tbsp butter in a small saucepan.

Brush the butter on both sides of salmon.

Sprinkle the spice mixture on each side of salmon, gently pat the salmon fillet to ensure the spices are sticking well.

Heat a large non-stick skillet over medium-high heat, add 1 tbsp butter.

Place the salmon in skillet, skin side up. Sear for about 2-4 minutes (depending on the thickness of fish).

Transfer the seared salmon to oven safe dish, bake in the oven at 350 degrees for about 5-7 minutes or until the fish flakes.
Mashed Sweet Potatoes
Microwave or bake the sweet potato until tender. Cool.

Remove the skin and slice into small pieces.

Add potato pieces, milk, salt, and pepper into a bowl, use a blender to mix thoroughly, until you reach your desired consistency.

Serve together with a side salad using a low-carb, low sugar salad dressing.*
Recipe Notes
If you want to use this recipe for the 1st 3 weeks of maintenance, just replace the sweet potatoes with a non-starch vegetable like broccoli.
*We recommend Simple Girl dressings and sauces for all phases of the HCG Diet and for life.