Scotch Eggs
Phase: Maintenance Phase Course: Breakfast, Side Dish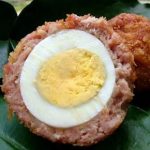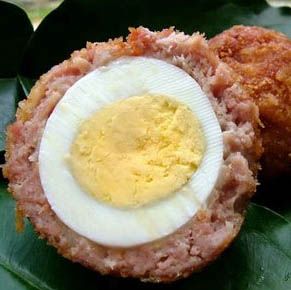 HCG Diet Phase 3: Scotch Eggs
These eggs are good for Phase 3 of the HCG Diet.
Course:
Appetizer, Breakfast, Main Course
Keyword:
appetizer, breakfast, eggs, HCG Diet, HCG Phase 3, Sausage
Ingredients
1

lb

breakfast sausage

4-6

hard-boiled eggs,

cooled and peeled

¼

cup

flour*

1

raw egg,

beaten

1½

cups

panko bread crumbs*

4

tbsp

oil
Instructions
Preheat oven to 350 degrees.

Divide the breakfast sausage into 4 or 6 portions, depending on how many eggs you have and how thick you want the sausage layer to be.

Flatten the portions into patties and carefully wrap each egg fully.

Roll the resulting balls in flour, then in egg wash, then in panko crumbs.

Heat oil in a pan over medium heat.

Once hot, turn down to medium-low and place sausage-covered eggs in oil.

Brown all sides and transfer to wire rack on a cookie tray.

Place tray in the oven for 20-40 minutes, depending on the thickness of the sausage layer. If you divided the pound of sausage onto 6 eggs, 20 minutes should be plenty.

Serve warm or let cool completely before storing in the fridge.
Recipe Notes
*Yes, these items are risky to use in the first 3 weeks of maintenance, however, on one Scotch Egg there is maybe a teaspoon of flour and a tablespoon of panko, this is probably equivalent to 1 Grissini breadstick, so I don't think it should be a problem unless you eat all 6 eggs in one day. They're really good, but that would just be crazy.