HCG Diet Tuna Salad Recipe (Phase 2)
Phase: Low Calorie Phase Course: Main Course, Salad
This HCG Diet Tuna Salad Recipe (Phase 2) will make for some variety while on the HCG Diet. Dr. Simeons didn't list tuna as one of the available protein options because, at his time, tuna was only available packed in oil. Now that tuna comes packed in water, many of our customers have tuna while on the low-calorie phase of the HCG Diet without slowing down the rate of weight lost. Canned tuna is quick and easy to prepare (pop that top!) and super high in protein. If you think plain tuna out of the can is a bit hard to eat, try fixing it up using this recipe and have a grissini breadstick along with it.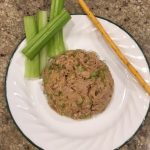 HCG Diet Tuna Salad (Phase 2)
This HCG Diet Phase 2 recipe counts as 1 protein serving and 1 vegetable serving.
Cuisine:
American, HCG Diet, summer
Keyword:
celery, Simple Girl salad dressing, tuna
Ingredients
100

g

white albacore or chunk light tuna

(3½ ounces) Must be packed in water!

1½

tsp

plain yellow prepared mustard

¼

tsp

onion powder

1½

tbsp

Simple Girl Sweet Vinaigrette Salad Dressing

½

c

chopped celery
Instructions
Remove the lid from the can of tuna and drain off excess water.

Wash a stalk of celery and chop 1/2 of the stalk into ⅛ inch pieces.

Cut the remaining stalk of celery into celery sticks (optional).

Combine tuna with chopped celery, onion powder, mustard and salad dressing.

Serve with a few celery-sticks and a grissini breadstick. Enjoy!