Artichoke Salad
Phase: Maintenance Phase Course: Salad, Side Dish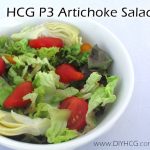 HCG Diet Phase 3 Recipe: Artichoke Salad
This HCG Diet Maintenance recipe is safe for the 1st 3 weeks of the Maintenance phase as it does not contain any sugars or starches, assuming you use the correct type of salad dressing.
This is just a side salad recipe and should be served with a protein serving. Or, if you want to turn this simple side salad recipe into a full meal, simply top a lean protein serving (such as grilled chicken or steak) and toss well. Protein is a very important part of HCG Phase 3 and you should not have any meals not centered around some type of protein.
Keyword:
artichoke, artichoke hearts, capers, HCG Phase 3, lettuce, low sugar dressing, Maintenance Phase, romaine, salad, side dish, Simple Girl salad dressing, tomato, yellow tomato
Ingredients
1

cup

red leaf lettuce

1

cup

romaine lettuce

½

can

artichoke hearts

(non-marinated)*

¼

cup

small red tomatoes

(such as grape or cherry tomatoes)

¼

cup

small yellow tomatoes

(such as sunbursts)

1

tsp

capers

(optional)

2

tbsp

low-carb, low-sugar salad dressing

(such as Simple Girl dressings)**
Instructions
Cut both types of lettuce into small bite-size pieces (about 1-inch).

Cut both types of tomatoes in half.


If the artichoke hearts are not already quartered, cut lengthwise into small quarter pieces.

Add all the chopped ingredients to a mixing bowl and add the capers, if desired.

Toss until all ingredients are well coated.

Transfer all ingredients into a small bowl for serving.
Recipe Notes
Use this recipe as a simple make-ahead meal for quick lunches. Simply place several servings of the non-dressed vegetables into small containers, cover with lids and store in the fridge. Take a bottle of low-carb, low-sugar salad dressing with you (or put in small individual containers for traveling). We sell individual dressing packets for your convenience, click here to purchase.
You may substitute dressing with a drizzle of extra virgin olive oil and white vinegar dressing, then season with sea salt and freshly cracked black pepper.
*Make sure that you purchase artichoke hearts packed in water because most marinated artichoke hearts contain sugar.
**Simple Girl salad dressings are vinegar based, oil-free, all-natural salad dressings specifically made for any phase of the HCG Diet. They are sweetened with stevia and contain zero calories. For this recipe, we used the Simple Girl Sweet Vinaigrette Dressing... it was delicious!