HCG Diet Phase 2 Bonus Recipe: Seafood Gumbo
Phase: Low Calorie Phase Course: Main Course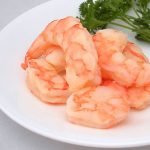 HCG Diet Phase 2 Bonus Recipe: Seafood Gumbo
This HCG Diet recipe is safe on Phase 2 of the HCG Diet and counts as 1 protein and 1 vegetable. 
If you love seafood you'll want to try this recipe. We hope you like it!
Keyword:
500 Calorie Phase, gumbo, HCG Diet, HCG Phase 2, main course, shrimp, summer, tomato
Ingredients
100

grams (3.5 ounces)

seafood

(any combination of shrimp, scallops, lobster or white fish)

1

clove garlic,

chopped*

2

large

Roma tomatoes,

chopped

¼

tsp

onion powder**

¼

tsp

Creole seasoning

⅛

tsp

garlic powder**

⅛

tsp

celery salt
Instructions
Sauté seafood with chopped garlic over high heat until lightly browned.

Add remaining ingredients and simmer on low heat for 15 minutes.
Recipe Notes
*You should always mince fresh garlic rather than using pre-minced garlic from the grocery store. Most pre-minced garlic contain preservatives. Be on the safe side... mince your own fresh garlic cloves for the best possible weight loss.
**Check the ingredients of the garlic powder and onion powder, as some brands can contain unallowed ingredients such as -dextrose. Avoid any brand with words ending in -ose, -tol, or -dextrin.