BBQ Chicken Salad
Phase: Low Calorie Phase Course: Main Course, Salad, Side Dish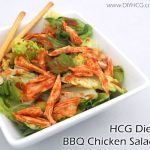 HCG Diet Phase 2 Recipe: BBQ Chicken Salad
This recipe is safe for Phase 2 of the HCG Diet and counts as 1 meat serving, 1 vegetable serving, and 1 'carb' serving.
This recipe requires the Simple Girl Carolina Kick BBQ Sauce. This sauce is sugar-free, oil-free, sweetened with stevia and was specifically formulated for all phases of the HCG Diet. This sauce is amazing and really 'makes' this recipe!
Course:
Main Course, Salad
Keyword:
bbq sauce, chicken, entree, HCG Diet, HCG Phase 2, salad
Ingredients
100

grams (3.5 ounces)

boneless, skinless chicken breast

1

tsp

sea salt

2

cups

lettuce

2

tbsp

Simple Girl Carolina Kick BBQ Sauce

1

grissini breadstick
Instructions
Trim any visible fat from the chicken meat.

Place the chicken in a large pot of boiling, salted water and boil until completely cooked (internal temperature of 165 degrees F).

Remove chicken from water, set aside to cool.

Cut the lettuce into bite-sized pieces (about ¼-inch). You may use any type of lettuce. We used romaine lettuce and it turned out amazing. Wash and dry your lettuce before use, especially if you do not buy organic.

Once the chicken is cooled, put on gloves and shred the chicken using your hands to pull the chicken apart.


Add the lettuce to the chicken mixture, toss once more until the lettuce is covered in the sauce.

Transfer to a serving dish and top with more sauce (if desired).