Basil Vinaigrette Salad Dressing
Phase: Low Calorie Phase Course: Salad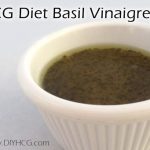 HCG Diet Phase 2 Recipe: Basil Vinaigrette Salad Dressing
This recipe is safe for Phase 2 of the HCG Diet and does not count as any type of servings, so you can have unlimited quantities of this salad dressing. This recipe counts as 1 protein serving, 1 vegetable serving, and 1 fruit serving.
Keyword:
500 Calorie Phase, basil, garlic, HCG Diet, HCG Phase 2, salad, salad dressing, stevia, vinaigrette
Ingredients
⅓

cup

apple cider vinegar

¾

cup

cold water

½

tsp

fine sea salt

½

tsp

freshly cracked black pepper

½

tsp

onion powder*

½

packet

powdered stevia**

1

handful

fresh basil

1

clove

fresh garlic***
Instructions
Roughly chop the garlic and basil.

Add garlic and basil into a blender or food processor.

Add the rest of the ingredients and pulse until they are combined and have become a liquid consistency. You may need to add a little more water to get the dressing to your preferred thickness.
Recipe Notes
*Not all onion powders are safe. Check the ingredients and avoid anything contain sugar, starches, oils, preservatives, and words ending in -ose, -tol, or -dextrin.
**When choosing the stevia for this recipe... many store-bought brands of stevia are stevia 'blends'. Only 'pure' stevia is recommended for Phase 2 of the HCG Diet. SweetLeaf® stevia is the brand we recommend and it's allowed in any quantity. If you do not have SweetLeaf® stevia, look at the ingredients and if you see any words ending in -ose, -tol, or -dextrin, avoid using that type of stevia during Phase 2 of the HCG Diet. ***You should always purchase fresh garlic for the best possible weight loss.
BONUS RECIPE ALERT: Need a salad recipe to use this awesome salad dressing on?
HCG Phase 2 Crunchy Chicken Salad
Ingredients
100 grams (3.5 ounces) boneless, skinless chicken breast
1 medium-sized apple
1-2 stalks celery
2 tbsp prepared Basil Vinaigrette salad dressing or Simple Girl salad dressing
Instructions
Cook the chicken (boil, grill, bake, etc.) and let cool.
Once cooled, cut the chicken into bite sized pieces (about ½-inch).
Chop that apple and celery stalks into bite-sized pieces (about ½-inch).
Toss the chicken, apple pieces and celery pieces together in a large bowl. Drizzle with salad dressing.