HCG Diet Phase 2 Recipe: Roasted Asparagus
Phase: Low Calorie Phase Course: Side Dish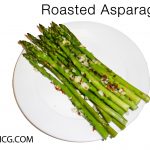 Roasted Asparagus
This HCG Diet recipe is safe for Phase 2 of the HCG Diet and counts as 1 vegetable serving. Also recommended for the ketogenic diet.
Keyword:
500 Calorie Phase, asparagus, HCG Diet, HCG Phase 2, HCG Phase 3, Low Calorie Phase, side dish, summer, VLCD Phase
Ingredients
100

grams

asparagus

2

cloves

garlic, minced*

½

tsp

parsley

¼

tsp

oregano

⅛

tsp

cracked black pepper or Simple Girl Steak Seasoning**
Instructions
Preheat the oven to 400 degrees.

Cut off the woody ends of the asparagus and place on a sheet of non-stick aluminum foil.

Wrap all ends of the foil up tightly to make a sealed 'pocket'.
Recipe Notes
*You should always mince fresh garlic rather than using pre-minced garlic from the grocery store. Most pre-minced garlic contain preservatives. Be on the safe side... mince your own fresh garlic cloves for the best possible weight loss.
**Not all seasonings are safe for Phase 2 of the HCG Diet. Check the ingredients and avoid anything containing sugar, starches, oils, preservatives, and words ending in -ose, -tol, or -dextrin. The Simple Girl Seasonings were created especially for the HCG Diet. They are gluten free, fat free, preservative free, contain no sugar or artificial sweeteners and are sweetened exclusively with HCG Diet approved stevia.