Orange Chicken (Phase 2)
Phase: Low Calorie Phase Course: Main Course
This Orange Chicken recipe is safe for Phase 2 of the HCG Diet and counts as 1 meat serving and 1/3* fruit serving while on the low-calorie phase of the HCG Diet.
*An orange is one of the fruits that is permitted on the HCG Diet so you can use some of the juice to make this dish and then eat the remainder of that orange as your fruit for that meal.

This recipe calls for Clear Stevia sweetener which can be found on our online store.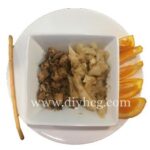 Orange Chicken (Phase 2)
Keyword:
500 Calorie Phase, chicken, orange
Ingredients
100

grams

skinless chicken breast

1/3

orange

1 1/2

tbsp

Bragg Liquid Aminos**

3

drops

clear stevia

1

tsp

rice wine vinegar

1/2

clove

garlic

1/2

tsp

ginger

1/2

tsp

black pepper

1/8

tsp

sea salt
Instructions
Make the orange chicken sauce by combining all of the ingredients, except the chicken, into a bowl.

Cut the chicken into 1-inch pieces and marinade for at least 30 minutes or overnight.

Cook chicken on each side for 3-4 minutes while reserving the marinade.

As the chicken cooks, drizzle marinade onto the chicken pieces.

Remove from heat and serve with your vegetable of choice. I usually opt for cooked cabbage (shown here but grilled onions are good too. Enjoy!
Recipe Notes
**We have found that Bragg Liquid Aminos are okay to use while on the VLCD phase of the HCG Diet Protocol.  Calories, carbs, and sugar all have a value of zero.  When using Bragg Liquid Aminos, mark it down in your diet journal to track your progress.  If it has a negative effect on your weight loss, discontinue using.