Classic Cucumber Salad
Phase: Low Calorie Phase Course: Appetizer, Salad, Side Dish, Snack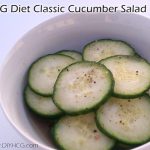 HCG Diet Phase 2 Recipe: Classic Cucumber Salad
This recipe is safe for Phase 2 of the HCG Diet and counts as 1 veggie serving.
Course:
Salad, Side Dish, Snack
Keyword:
apple cider vinegar, cucumber, HCG Diet, HCG Phase 2, salad, side dish, snack
Ingredients
1

large ripe cucumber

2

tbsp

apple cider vinegar

3-4

cubes of ice

½

tsp

sea salt

½

tsp

freshly ground black pepper
Instructions
Thinly slice the cucumber into discs (about ⅛-inch thickness). Transfer the sliced cucumber pieces into a bowl.


Add the ice cubes, sea salt, and black pepper to the bowl.


Place in the fridge to chill. Let the cucumber mixture chill for at least 10 minutes as it tastes best when very cold.


Remove from fridge, remove any left-over ice cubes.


Top with more salt and pepper, if desired.
Recipe Notes
This recipe is fine to make in bulk and store covered in the fridge until ready to eat because the vinegar acts as a preservative/pickling agent. Simply multiply the above recipe by how many servings you want to make, prepare in bulk, and then divide the finished product evenly into individual containers, cover, and refrigerate.
*If you do not buy organic, make sure to wash your cucumber before chopping. If covered in a waxy coating, you may even want to peel the cucumber before using it in this recipe to avoid consuming pesticides and other chemicals.