Steak & Onions
Phase: Low Calorie Phase Course: Main Course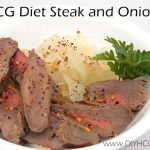 HCG Diet Phase 2 Recipe: Steak & Onions
This recipe is safe for Phase 2 of the HCG Diet and counts as 1 meat serving and 1 vegetable serving. Ensure you have the right type of steak for use on Phase 2. Your steak needs to be extra lean, such as filet mignon, sirloin, top round, T-bone, etc. Trim any visible fat from your steak before cooking.
Try this 'steak and onion' recipe tonight. We hope you like it!
Keyword:
entree, HCG Diet, HCG Phase 2, onion, steak
Ingredients
100

grams (3.5 ounces)

extra lean steak

⅛

tsp

sea salt

⅛

tsp

freshly cracked black pepper

1

clove

fresh garlic, minced*

⅛

tsp

chili powder

⅛

tsp

ground cumin

⅛

tsp

red pepper flakes

1

medium-sized white onion

sea salt

(to taste)

freshly ground black pepper

(to taste)
Instructions
Cut your raw steak into thin strips (about ⅓-inch thick).


Place medium sized non-stick skillet over medium-high heat for a few minutes until warm.


Add the raw steak pieces to the skillet and immediately season with the above spices: sea salt, pepper, garlic, chili powder, cumin and pepper flakes.


While the meat is searing, chop the onion into bite-sized pieces (about ¼-inch).


Once the steak is seared, add the onions, cover and turn to low heat.

Let cook at low heat, stirring occasionally until the onions are translucent and the meat is cooked to your preferred 'doneness'.

Remove from heat, cool slightly, and transfer to a serving dish.

Season with salt and pepper, if desired.
Recipe Notes
*You should always mince fresh garlic rather than using pre-minced garlic from the grocery store. Most pre-minced garlic contain preservatives. Be on the safe side... mince your own fresh garlic cloves for the best possible weight loss.
Want to add more flavor? Consider marinating your meat in one of our amazing HCG Diet safe sauces or dressings! We have amazing dressings that double as meat marinades. Simply add your raw meat and the dressing to a zip-top bag and place in the fridge overnight for amazing, deep flavor. See all our Simple Girl dressings and sauces here.