HCG Diet Phase 3 Recipe: Quick and Easy Veggie Pizza
Phase: Maintenance Phase Course: Appetizer, Main Course, Snack
After completing the low-calorie phase of the HCG Diet and losing a good amount of weight, you'll want to KEEP IT OFF! Consequently, some lifestyle changes may be in order. If you're looking to replace some of your old not-so-good-for-you favorite foods with new, healthy versions, look no further if one of your favorites is pizza!
Quick and Easy Veggie Pizza is allowed on the 1st three weeks of maintenance as long as you make sure to use a low carb wrap (5 net carbs or less) for the crust and mozzarella cheese, either regular (with 6 grams of fat) or part-skim (with 4 grams of fat) for the topping. This recipe is healthy, filling, and delicious!
Visit our website for more maintenance recipes!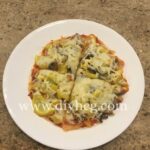 Quick and Easy Veggie Pizza – Phase 3
Course:
Appetizer, Main Course, Snack
Keyword:
Maintenance Phase, pizza
Ingredients
1

low carb wrap

1/4

cup

pizza sauce

1/2

medium onion, chopped

1/2

summer squash (also called yellow squash), sliced and quartered

sliced mushrooms (fresh or canned)

1/2

tbsp

olive oil

garlic salt

pepper

1/2

cup

shredded mozzarella cheese
Instructions
Heat oil in a medium sauté pan over medium-high heat. Add onion, squash and sliced mushrooms and cook for 3-5 minutes before turning. Stir and allow vegetables to cook for a couple more minutes but don't let them get mushy.

Sprinkle vegetables with garlic salt and pepper to taste.

Remove from heat and set aside to cool for 5 minutes.

Lightly spray a pizza pan with cooking spray.

Place the low carb wrap on the pizza pan.

Spread pizza sauce on the low carb wrap.

Remove vegetables from sauté pan and place atop the wrap.

Sprinkle cheese over the pizza.

Bake in pre-heated oven for about 8 minutes.

Slide the pizza on a serving plate, cut in quarter pieces and enjoy!