Apple-Topia with Peanut Butter
Phase: Maintenance Phase Course: Dessert, Snack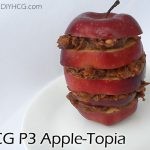 HCG Diet Phase 3 Recipe: Apple-Topia with Peanut Butter
This HCG Diet Maintenance recipe is safe for the first 3 weeks of HCG maintenance and beyond; it's a super low-calorie, low-carb dessert.
Make this recipe when you have a sweet tooth craving. We hope you like it!
Keyword:
apple, dessert, HCG Diet, HCG Phase 3, Maintenance Phase, peanut butter, snack
Ingredients
1

apple

2

tbsp

peanut butter

1

tsp

unsweetened cocoa powder

1

packet

powdered stevia

(or to taste)
Instructions
Thinly slice the apple horizontally into several 'disk' shapes (pieces ¼-inch thick). See photo for example.

Remove the core area of each piece of apple-disk with a shape paring knife or small round cookie cutter. Set pieces aside.

In a small bowl, mix together the peanut butter, cocoa, and powdered stevia until well combined.

If stirring is a little hard (depending on the thickness of your peanut butter brand), you may want to add a few drops of water to help the mixture combine better.

Heat in a microwave for 10-15 seconds, or just as the peanut butter mixture softens slightly.

Taste-test the peanut butter mixture and see if it's sweet enough for you. If not, add more stevia and stir again.

Place the bottom apple piece on a small plate top, smear with the cocoa peanut butter mixture.

Continue layering until you reach the top of the apple. Enjoy!
Recipe Notes
*You can use smooth or crunchy peanut butter, whichever you chose (we made it with crunchy for the added texture and it came out GREAT).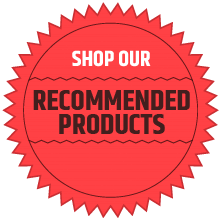 Want more protein? Add some protein to this recipe by replacing the cocoa power with a chocolate protein shake mix. It will still taste amazing and will amp up the protein in this recipe, keeping your feeling fuller, more satisfied longer!