Miracle Noodle Cocoa Cookie
Phase: Maintenance Phase Course: Dessert, Snack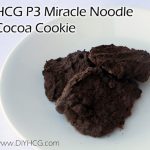 HCG Diet Phase 3 Recipe: Miracle Noodle Cocoa Cookie
This no flour cookie recipe made with Miracle Noodles is safe for the 1st 3 weeks of Phase 3 of the HCG Diet.
We hope you like this recipe as much as we do!
Keyword:
cocoa powder, dessert, HCG Diet, HCG Phase 3, miracle noodles, snack
Ingredients
1

(8-9 ounce)

bag miracle noodles*

2

eggs

3

tbsp

unsweetened cocoa powder

½

tsp

baking powder

½

tsp

vanilla

(non-imitation)

2

packets

powdered stevia

⅛

tsp

fine sea salt
Instructions
Prepare the miracle noodles.*

Once the miracle noodles are prepared, dry the noodles thoroughly, if you do not dry the miracle noodles well enough, you will have runny cookie dough.

Place them in the fridge and allow them to chill for 10-15 minutes.

Once the miracle noodles are cooled, place them in a blender or food processor. Pulse for about 30-45 seconds.

Add the eggs, and cocoa powder and pulse until combined.


Then add the rest of the ingredients to the food processor: baking powder, vanilla, powdered stevia and salt. Pulse until well combined.

Roll the miracle noodle mixture into ½-inch cookie dough balls using your hands.

Place the balls of cookie dough on a non-stick cookie sheet. (You may want to use parchment paper for easy clean-up).

Preheat oven at 375 degrees F.

Bake the cookies for about 10 minutes depending on your oven, check at 8 minutes.

Once the edges are firm you can remove from the oven.


Allow to cool on the cookie sheet.

Remove cookies from the cookie sheet, serve and enjoy!
Recipe Notes
Want to get a little crazy? We've had some people use flavored stevia drops to make crazy mixed flavors of miracle noodle cookies such as 'peppermint mocha miracle noodle cookies', 'chocolate miracle noodle cookies', 'hazelnut miracle noodle cookies', and even 'pumpkin spice miracle noodle cookies' using our flavored stevia drops. Remember, these flavored stevia drops are highly concentrated, so if you are going to try this, omit the powdered stevia from this recipe and start by add 5-6 drops of the flavored stevia to avoid it being overly sweetened. See all the flavors we have here.
*If you are unfamiliar with miracle noodles, they are shirataki noodles, a calorie-free type of noodle that is also wheat-free, gluten-free, fat-free, sugar-free and nearly carbohydrate-free. Each brand is a little different, so follow the instructions located on the package or watch a video of how we prepare our brand of miracle noodles by clicking here. Find the brand of miracle noodles we recommend here).