HCG Diet Phase 3 Recipe: Crustless Pumpkin Pie
Phase: Maintenance Phase Course: Breakfast, Dessert, Snack
This recipe is reprinted from the HCG Weight Loss Cure Guide by Linda Prinster. This book isn't a recipe book, but it is the #1 best resource for the HCG Diet. From preparing to do the diet and getting through the gorge days and very low-calorie diet phase (VLCD), to transitioning to the maintenance phase, this book will prove to be an invaluable resource. It also includes a food list of over 1000 foods, beverages, and condiments and indicates which phases of the diet they are allowed, cautioned, or disallowed.
This recipe is great for the 1st Three Weeks of Maintenance (no sugar and no starches phase) of the HCG Diet. If you've recently completed Phase 2, the low-calorie phase, and have moved on to maintenance, this recipe makes the perfect dessert for the holiday season!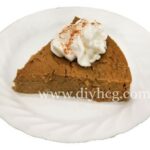 HCG Diet Phase 3 Recipe: Crustless Pumpkin Pie
Course:
Breakfast, Dessert, Snack
Cuisine:
American, fall, HCG Diet
Keyword:
Maintenance Phase, pumpkin
Ingredients
1

can

pumpkin

15 oz.

2

eggs

1

cup

fat-free milk

2

tsp

cinnamon

½

tsp

ginger

½

tsp

nutmeg

¾

cup

zero-calorie sweetener

(one that measures like sugar)
Instructions
Put all ingredients in a bowl and beat with a whisk or mixer.

Put in microwave uncovered. Cook on high for 13 to 18 minutes, depending on the power of your microwave, checking pie halfway through.

Pie is done when the outside edges start to pull away from the sides just a little, and knife inserted in middle doesn't quite come out clean.

Take out of microwave and cover bowl with a plate for about 5 minutes to finish cooking the center.

Cut into 6 pieces like you would a pie. Serve warm or cold.

(Optional) Garnish with a dollop of Sugar Free Reddi-Wip Whipped Topping found in the refrigerated section of your local supermarket.

Crustless Pumpkin Pie makes 6 servings. Per serving: Calories 62, Carbohydrates 7g, Sugars 4.3g, Protein 4.6g, Fat 1g, Fiber 3g.

Reddi-Wip Zero Sugar Whipped Topping, 2 tbsp per serving: Calories 15, Carbohydrates 0g, Sugars 0g, Protein 0g, Fat 1.5g, Fiber 0g.