Creamy Cafe Coffee
Phase: Low Calorie Phase Course: Beverage, Breakfast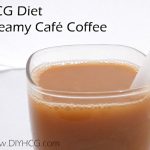 HCG Diet Phase 2 Recipe: Creamy Cafe Coffee
This recipe is safe for Phase 2 of the HCG Diet assuming you use the correct brand of flavored stevia drops. We recommend SweetLeaf® Stevia.

This recipe counts as your entire daily allotted amount of milk on the HCG Diet. You are allowed 1 tablespoon of milk in a 24-hour period. Most people use their milk stipend as a means to make their coffee creamy. The type of milk isn't necessarily limited, therefore, you may use other types of non-dairy milk if you choose such as unsweetened almond milk, unsweetened soy milk, unsweetened rice milk, etc. Just make sure the type of milk you choose is unsweetened, unflavored, and does not contain more than 2% fat.

This recipe can be made with any flavor of stevia you choose, but the vanilla and chocolate stevia do make a great combination. Other flavors of stevia that are popular for making coffee style drinks are chocolate raspberry stevia, chocolate stevia, English toffee stevia, hazelnut stevia, and peppermint stevia (especially during the holidays). Click here to see all of the flavors of stevia available.
Keyword:
500 Calorie Phase, chocolate stevia, coffee, HCG Diet, HCG Phase 2, milk, vanilla creme stevia
Ingredients
1

cup

brewed unflavored black coffee

1

tbsp

milk

(skim, 1% or 2%)

6

drops

vanilla crème stevia

6

drops

chocolate stevia

5-6

ice cubes,

if desired
Instructions
Combine the cooled coffee, milk, and both types of flavored stevia drops into a large glass and stir well.

Add ice, if desired, and stir.