'Cream of Chicken' Soup
Phase: Low Calorie Phase Course: Soup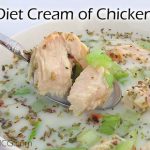 HCG Diet Phase 2 Recipe: 'Cream of Chicken' Soup
This HCG Diet recipe is safe for Phase 2 of the HCG Diet and counts as 1 protein serving, 1 vegetable serving, and your entire daily allotted amount of milk. You are allowed 1 tablespoon of milk in a 24-hour period. This is an especially great recipe to make if you are feeling under the weather.
This recipe is made with our Homemade Chicken Broth (see recipe here).
Course:
Main Course, Soup
Keyword:
500 Calorie Phase, celery, chicken, HCG Diet, HCG Phase 2, main course, soup
Ingredients
2

cups

Homemade Chicken Broth* or water

1

tbsp

milk**

(2% fat or less)

100

grams (3.5 ounces)

boneless, skinless chicken breast

2

large

celery stalks

2

tsp

garlic,

minced***

½

tsp

dried parsley

½

tsp

dried basil

¼

tsp

white pepper

(or to taste)

¼

tsp

fine sea salt

(or to taste)
Instructions
Place the chicken broth or water in a medium-sized pot on the stove on medium-high heat.


Trimming any visible fat off the chicken breast meat.


Place the chicken in a large pot of boiling, salted water and continue to boil the chicken until it has reached an internal temperature of 165 degrees F.


Remove chicken from water, set aside to let cool.


Once the chicken is cool enough to handle, chop the chicken into bite-sized pieces (about ½-inch pieces).


Chop the celery stalks into bite-sized pieces (about ¼-inch pieces).


Add the chicken broth or water, milk and all spices into a medium-sized pot, over low heat. Stir well until the spices are well combined into the broth mixture.


Add the celery and chicken pieces.


Cover and heat over low for about 20-30 minutes stirring occasionally.


Remove from heat, transfer to a serving dish, and top with more salt and pepper, if desired. Enjoy!

Recipe Notes
*If you do not have any of the chicken broth made; you may substitute water. Do not use store-bought chicken broth or bouillon cubes as they usually contain sugar and other ingredients that are not allowed which could slow or stall your weight loss.
**The type of milk isn't necessarily limited; therefore, you may use other types of non-dairy milk if you choose such as unsweetened almond milk, unsweetened soy milk, unsweetened rice milk, etc. Just make sure the type of milk you choose is unsweetened, unflavored, and does not contain more than 2% fat.
***You should always mince fresh garlic rather than using pre-minced garlic from the grocery store. Most pre-minced garlic contain preservatives. Be on the safe side... mince your own fresh garlic cloves for the best possible weight loss.