Chicken Broth
Phase: Low Calorie Phase Course: Soup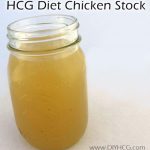 HCG Diet Phase 2 Recipe: Chicken Broth
Store-bought chicken broth or bouillon cubes usually contain sugar and other ingredients that are not allowed on the diet and could slow or stall your weight loss.
This recipe is from the 101 Worry-Free HCG Diet Recipes Book. It makes 6 chicken servings that you can cool and place in the fridge or freeze to use in recipes later. You can pour the chicken stock into mason jars or other types of glassware for storage.
The best ways to use this chicken broth: Use about 2 cups of this broth as a base to make any variety of soup or add a few tablespoons of this broth to the bottom of a skillet to keep your sautéed veggies from sticking to the pan.
Keyword:
chicken, chicken broth, chicken stock, HCG Diet, HCG Phase 2, soup
Ingredients
6

pieces (100 grams or 3.5 ounces each)

boneless, skinless chicken breast

8

cups

water

¼

tsp

garlic powder*

¼

tsp

onion powder*

¼

tsp

celery salt

¼

tsp

poultry seasoning**

¼

tsp

freshly cracked black pepper

½

tsp

coarse sea salt
Instructions
In large pot, add 8 cups of water and the above seasonings: garlic powder, onion powder, celery salt, poultry seasoning, salt, and pepper.


Stir until the powdered spices are dissolved and the rest of the spices are well combined.

Add the raw chicken breast pieces.


Turn to medium-high heat and bring to a boil.


Once boiling, cover and turn to low-medium heat.


Continue to cook until the chicken has reached an internal temperature of 165 degrees F.


Remove the chicken pieces from the pots and voila... you have homemade chicken stock.
Recipe Notes
Use the Simple Girl Dry Bouillon Base to prepare a hot cup of broth to sip on any time during the day when you're feeling hungry. Or use the prepared Dry Bouillon Base liquid as a replacement to water when sautéing or steaming your vegetables for added flavor. You can use the prepared Dry Bouillon Base as a base to making any type of soup recipe. It's gluten free, fat free, preservative free, and contains no sugar or artificial sweeteners. This product is sweetened exclusively with HCG Diet approved stevia. See this great product here.
*Not all garlic powders and onion powders are safe for Phase 2 of the HCG Diet. Check the ingredients and avoid anything containing sugar, starches, oils, preservatives, and words ending in -ose, -tol, or -dextrin.
**If you do not have any poultry seasoning; poultry blend seasoning usually contains spices such as ground sage, ground thyme, ground marjoram, ground rosemary, ground nutmeg, and finely ground black pepper. Feel free to add any of those spices to add flavor to your soup recipe. Check the ingredients and avoid anything containing sugar, starches, oils, preservatives, and words ending in -ose, -tol, or -dextrin. 
Here's a video you can watch about 'How to Make HCG Diet Chicken Broth' from the HCGDietStore.com.