Southern Fried Fish (Phase 2)
Phase: Low Calorie Phase Course: Main Course
Eating fish on the HCG Diet doesn't have to be dry and boring. All the ingredients in this recipe are allowed on the protocol and make for finger lickin' good Southern fried fish (Phase 2)!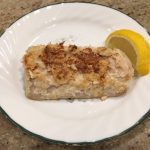 Southern Fried Fish (Phase 2)
Cuisine:
American, Southern
Keyword:
500 Calorie Phase, fish, grissini breadstick
Ingredients
100

grams

white fish

tilapia, mahi-mahi, catfish, cod, etc.

1

tbsp

milk

skim, 1% or 2%

1

grissini breadstick

plain, garlic or multigrain

1

dash

garlic powder

1

dash

onion powder

1

sprinkle

salt

1

sprinkle

pepper

1

sprinkle

cayenne pepper

optional
Instructions
Break the grissini breadstick into 4 pieces and place in a small plastic bag making sure the bag is tied shut with a twist tie.

Place the bag on the countertop and roll a heavy glass, cup or rolling pin over the bag so that the breadstick is smashed into fine crumbs.

Sprinkle the garlic powder, onion powder, salt and pepper into the bag and shake well. This will serve as the breading.

Empty the contents of the bag into a shallow bowl.

Pour milk into a shallow bowl.

Pat the fish dry with a paper towel, then place fish in the bowl of milk.

Turn it over a couple of times until milk coats the fish fillet.

Place the fillet in the breading bowl and turn over until all the mixture sticks to the fish.

Heat a non-stick cooking pan to medium heat.

Depending on your pan, you may choose to use cooking spray but spray very quickly. (Cooking sprays list 0calories but they actually have about 2 calories in a serving… which is only ¼of a second!)

When browned on one side (1-3 minutes depending upon the thickness of the fillet),flip fish and fry until cooked through.