HCG Diet Phase 3 Recipe: Berry Sauce
Phase: Maintenance Phase Course: Dessert, Side Dish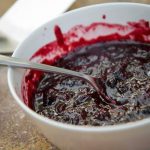 HCG Diet Phase 3 Recipe: Berry Sauce
This recipe is allowed during the 1st 3 Weeks of the Maintenance Phase on the HCG Diet.
This sauce is a nice sweet way to satisfy your sweet tooth.
Keyword:
blueberries, dessert, HCG Diet, HCG Phase 3, Maintenance Phase, raspberries
Ingredients
1

cup

fresh or frozen blueberries

½

cup

fresh or frozen raspberries

½

cup

orange juice

½

cup

water

6-10

drops

clear stevia

(or to taste)

6-10

drops

valencia orange stevia (optional)

(or to taste)

1

tbsp

Grand Marnier
Instructions
Combine all ingredients in pot over medium heat.

When liquid comes to a boil, turn heat to low and cook for about 20 minutes or until fruit has broken down and liquid has reduced slightly, stirring occasionally.

Serve warm or cold. Enjoy!
Recipe Notes
Looking for motivation to stick to Maintenance Phase and keep the weight off? These people did it! You can too!
Cindy L.: "I have always been in pretty good shape and have felt good about myself and the way I looked, but still some unwanted fat that I just could not get rid of after having 4 children. After completing the HCG I lost the 10 pounds I needed to shed (I actually lost 12 and have kept it off so far) and am able to see muscle instead of a thin layer of fat in my legs and tummy area. HCG is awesome. All the hours spent at the gym and I could never get rid of, or keep off the last 10#. I have energy, eat better now, and am more aware of what I put in my body...especially what it really needs. I love being off junk food and soda. I feel good and look good too. THANKS!"
Lori R.: "I found I was able to lose weight fast with HCG. Other products have been hard to stay with because I didn't get quick results and then would give up. DIY HCG made me feel like I could succeed. Self confidence in a bottle!"
Cora B.: "Your HCG product has changed my life and my outlook on the future. You have all been very helpful and informative."
James K.: "I went from 224 to 199 in 40 days with the HCG Diet. That's 25 lbs in 40 days. That's with a few cheat days thrown in too and not being as strict as I probably could have been!" I did the injections once and lost 40 lbs in 43 days, but the hunger issues and psychological tolls were too much. The liquid form definitely taps into the emotions better and works so you don't go insane! I'm not sure how that happens, but I know the HCG liquid was a lot better as far as the hunger and stress issues. Thanks!"
You can do this!