Mexican Steak
Phase: Maintenance Phase Course: Main Course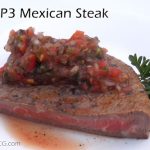 HCG Diet Phase 3 Recipe: Mexican Steak
This recipe is safe for the first 3 weeks of HCG Diet Phase 3 and beyond because it does not contain any sugars or starches.
This Mexican Steak recipe is delicious... try it tonight!
Keyword:
entree, HCG Diet, HCG Phase 3, Sirloin Steak
Ingredients
6

oz

lean sirloin steak

⅛

tsp

ground cumin

⅛

tsp

garlic powder

¼

tsp

freshly cracked pepper

⅛

tsp

coarse salt

¼

tsp

hot chili powder

1

tomato

½

onion

1

handful

fresh cilantro

½

lime,

juiced

½

jalapeno

(or to taste)
Instructions
Make the pico de gallo. Combine tomato, onion, cilantro, lime juice, and jalapeno in a food processor or blender.

Pulse until combined and the mixture has reached a good consistency.

Make the steak rub, by combining the cumin, garlic powder, pepper, salt, and chili powder small bowl. Mix well.

Spread the spice mixture on both sides of the meat and gently press to adhere the spices to the meat.

Preheat a grill or non-stick skillet over medium-high heat.

Once warm, sear both sides of the steak for about a minute.

Cover and turn down to low heat.

Let the steak cook for an additional 2-3 minutes per side depending on the thickness of the steak until the steak has reach your preferred level of done-ness.

Remove from heat, allow to rest for 2-3 minutes before slicing.

Slice on the bias and serve with the pico de gallo.
Recipe Notes

Bonus HCG Recipe!
HCG Diet Phase 3 Recipe: Artichoke Stuffed Chicken
Submitted by Sheila Viers
This recipe is safe for the 1st 3 weeks of HCG Phase 3 and beyond because it does not contain and sugars or starches.
15 oz can artichoke hearts, drained and chopped

¾ cup parmesan cheese, grated

¾ cup low-fat mayonnaise

⅛ tsp garlic powder

16 oz boneless, skinless chicken breast (4 breasts)

Salt and pepper
Instructions
Preheat oven to 375° F.

Grease 9×9-inch glass baking dish with cooking spray or coconut oil. (I use a paper towel and wipe the oil around bottom and sides of the dish.)

Place chicken breasts (one by one) between two sheets of plastic wrap and pound flat to achieve even thickness throughout.

In a medium bowl, mix together the artichoke hearts, Parmesan cheese, mayonnaise, and garlic powder.

Lay pounded chicken breast out flat and scoop ¼ of the mixture into the center of the breast.

Roll the breast up around it and place it, folded side down, in the baking dish.

Repeat for all 4 breasts.

Salt and pepper the tops of the chicken rolls (a pinch of each sprinkled evenly over all 4 breasts).

Bake uncovered for 30 minutes or until chicken is no longer pink and juices run clear.

Remove from oven and let sit for 5 minutes to allow juices to redistribute throughout chicken.