Beef Patty Wrap
Phase: Low Calorie Phase Course: Main Course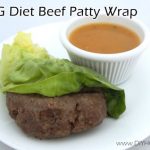 HCG Diet Phase 2 Recipe: Beef Patty Wrap
This recipe is safe for Phase 2 of the HCG Diet and counts as 1 meat serving and 1 vegetable serving. This is a perfect recipe for make-ahead meals. Simply multiply the ingredients by how many servings you need for the week and store cooked patties in an air-tight container. Most people make this recipe in groups of 4 meat servings because ground beef is most commonly sold in one pound packages.
Keyword:
ground beef, HCG Diet, HCG Phase 2, lettuce, main course
Ingredients
100

grams

extra lean ground beef

⅛

tsp

sea salt

⅛

tsp

pepper

⅛

tsp

garlic powder*

⅛

tsp

onion powder*

1

large lettuce leaf

1

tbsp

Simple Girl Sweet Mustard Dressing

(you may substitute plain yellow mustard**)
Instructions
Ensure that you have the right type of ground beef to be used on the HCG Diet. For ground beef to be considered HCG Diet compliant it needs to be 7% fat or less. Look for 93/7 or 95/5 ratios on meat packaging. Using higher fat levels of ground beef can lead to slower weight loss and possible stalls.


Place the portion of ground beef in a medium-sized bowl. Sprinkle the ground beef with the following ingredients: sea salt, pepper, onion powder and garlic powder. With your hands, thoroughly mix the spices into the ground beef until well combined.


Add one tablespoon of Simple Girl Sweet Mustard Dressing to the meat and spice mixture, combine well. Gather all the meat into your hands and mold meat into a patty shape, similar to a burger patty. Compress the meat slightly so it's packed together well, if not the patty may fall apart while cooking.


Place the raw meat burger patty in a non-stick pan over medium-high heat. Once the first side is browned, flip burger patty to cook the other side. If you notice the meat sticking to the pan, add a few teaspoons of water to the bottom of the pan to avoid further sticking and prevent too much searing. Continue cooking until the burger patty has reached your preferred level of doneness. Remove the meat patty from heat and let cool slightly.


Lay out the large lettuce leaf on a plate, place meat patty on lettuce leaf and roll tightly into a wrap. If the lettuce is having a hard time staying into a wrap shape, you may pin together with toothpicks for easier handling.

Recipe Notes
*Check the ingredients of the garlic powder and onion powder, as some brands can contain unallowed ingredients such as -dextrose. Avoid any brand with words ending in -ose, -tol, or -dextrin.
**Any time you want to use mustard while on Phase 2 of the HCG Diet check the ingredients thoroughly for compliance... avoid oils, most preservatives, and any ingredients ending in -ose, -tol, or -dextrin.